On sale September 29th at 10am Member presale begins September 28th at 10am
King Buffalow/ Handsome Jack
Thursday, December 7
Doors 7pm / Show 8pm
$18 Member / $20 General Admission Advance/ $23 General Admission Day of Show
All ages / Standing
Members at the $75 level or above will be emailed a promo code to access the presale
Sign up to become a Member HERE.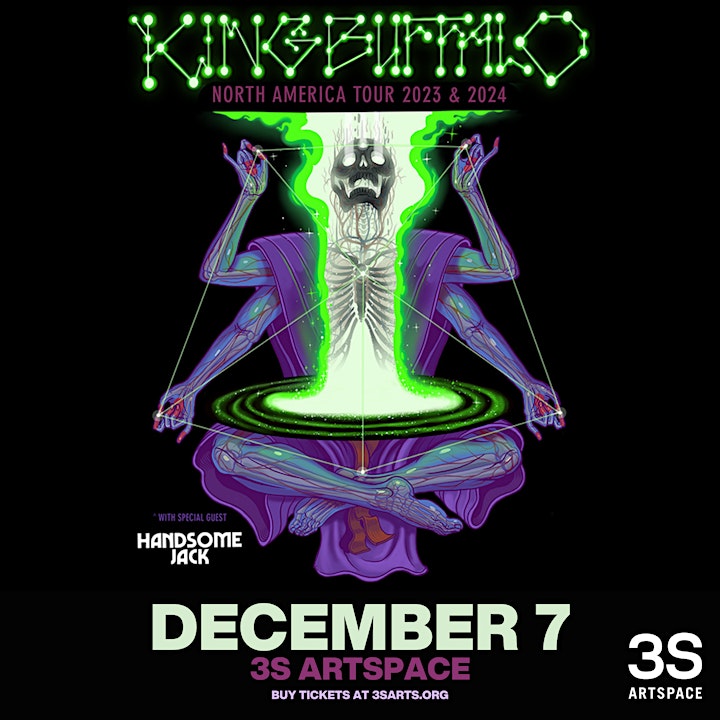 King Buffalo is the trio of vocalist/guitarist Sean McVay, bassist Dan Reynolds, and drummer Scott Donaldson. Since forming in 2013, the self-proclaimed "heavy psych" band has made its name via 4 Full-lengths, 4EPs, and tours with Clutch, Uncle Acid and the Deadbeats, All Them Witches, The Sword, and Elder.
King Buffalo issued their fifth full-length, Regenerator, on Sept. 2, 2022, as a self-release in North America and through Stickman Records in Europe.
Written and recorded by the band with mixing and engineering by Sean McVay and mastering by Bernie Matthews, the seven-song outing is the third in King Buffalo's stated 'pandemic trilogy,' following Two of 2021's Best Albums in The Burden of Restlessness and Acheron.
Both of those albums – like 2018's Longing to Be the Mountain, 2016's debut, Orion, and the various EPs and other offerings they've made over the last eight years – made bold declarations about who King Buffalo are as a band, and Regenerator is no different. As McVay, Reynolds and Donaldson continue to explore the outer reaches of modern psychedelic songcraft, melding progressive rhythms, drifting atmospheres and accompanying surges of electricity, the new collection only further establishes them as one of the brightest lights shining in underground rock today.
As the third of three, Regenerator seems inherently to tie together the two LPs most immediately before it, and as King Buffalo unfold the leadoff title-track across nine and half minutes, it becomes clear just how truly they have marked out their own sonic presence. The later melodic highlight "Mammoth" – with McVay's most confident vocal yet – shimmers with hope that somehow doesn't come across as desperate, and as "Hours" engages classic space rock and the closing "Firmament" summarizes the first, second and third series installments, the final chapter of this trilogy becomes the essential cornerstone of King Buffalo's work to-date.
The band returned to live activity late last year, touring alongside Clutch and more recently a full North American spring tour with Uncle Acid and the Deadbeats. By the time Regenerator arrives, they will have completed a UK and European headlining tour with festival appearances in Germany, the Netherlands, Austria, Switzerland, Portugal, Belgium and Denmark.
----

Hailing from Lockport NY, Handsome Jack plays a powerful and emotional fusion of boogie soul rock n roll that has earned the admiration of fellow rock travelers such as Chris Robinson (CRB, Black Crowes), Zachary Gabbard (Buffalo Killers), and Ben McLeod of All Them Witches, who produced their new record.
On "Everything's Gonna Be Alright" the trio digs deeper into its soulful influences, brilliantly bringing back to life the classic sounds of Chicago, Memphis and Muscle Shoals, all rolled into one timeless record of American rock music for a new generation.
Handsome Jack is Jamison Passuite (guitar/vocals), Joey Verdonselli (bass/vocals), and Bennie Hayes (drums/vocals).
They've shared the stage with, The Rival Sons, Monster Truck, The Sheepdogs, Blue Cheer, Gov't Mule, J. Geils, The Hold Steady, and Robert Randolph to name a few.
----
Artist Inquiries + Proposals
Become a Member
Stay connected to 3S year-round.