TESTSET
September 8 - November 12, 2023
Shaina Gates
Shaina Gates' transparent folded Figure sculptures, along with their corresponding Artifact prints, are made through alternative and experimental photographic processes using black and white photographic materials.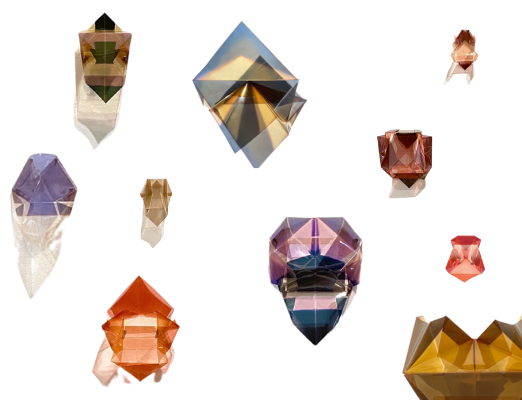 As Above, So Below
September 8 - November 12, 2023
Davana Robedee
Indigo dye strikes a balance between precise science and magical experience. Both growing and dyeing with it, its place in Davana Robedee's practice is both symbolic and functional. It slows her experience of time, and the imagery explores her parasomnia hallucinations.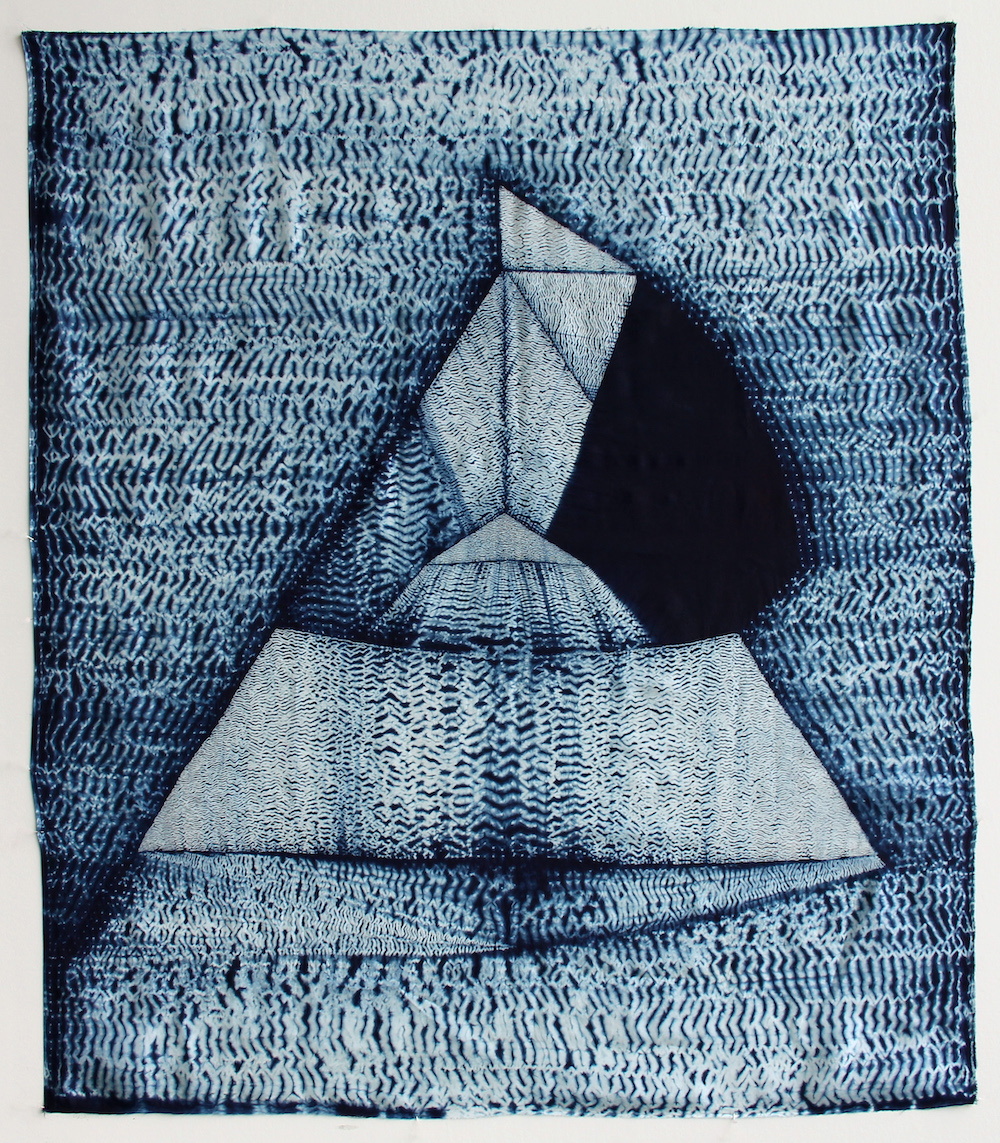 Why am I Here?
June 16 - August 20, 2023
Natalie Fisk
Natalie Fisk makes paintings, drawings, and sculptures that utilize the symbol of Papel Picado as a metaphor to engage in various personal dialogues about how to celebrate joy within grief.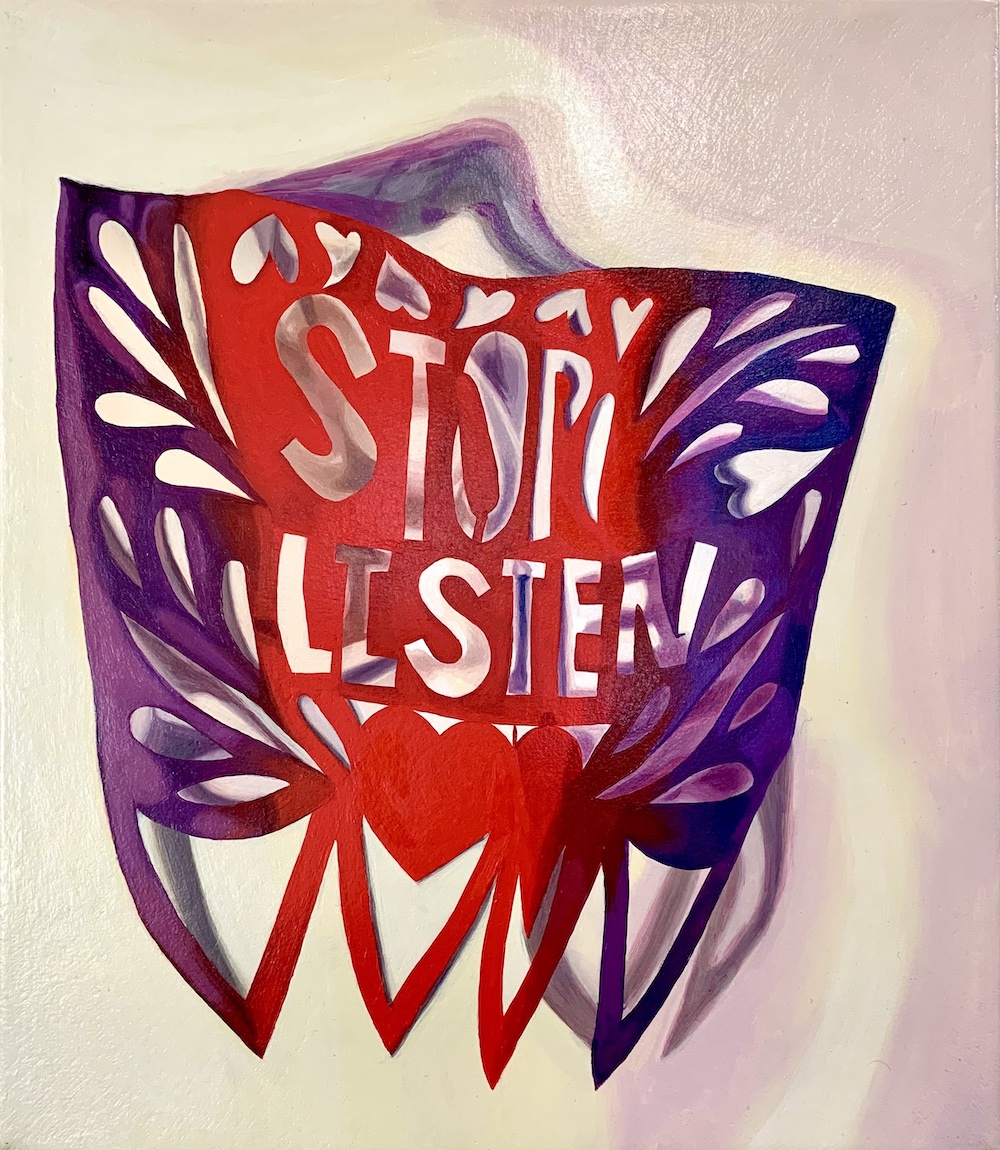 If You Knew, Let it Be Us
June 16 - August 20, 2023
McKinley Wallace

McKinley Wallace is a Black man who paints, draws, and collages to tell stories of power manifested in resilient peoples, determined to resist erasure and break free of master narratives.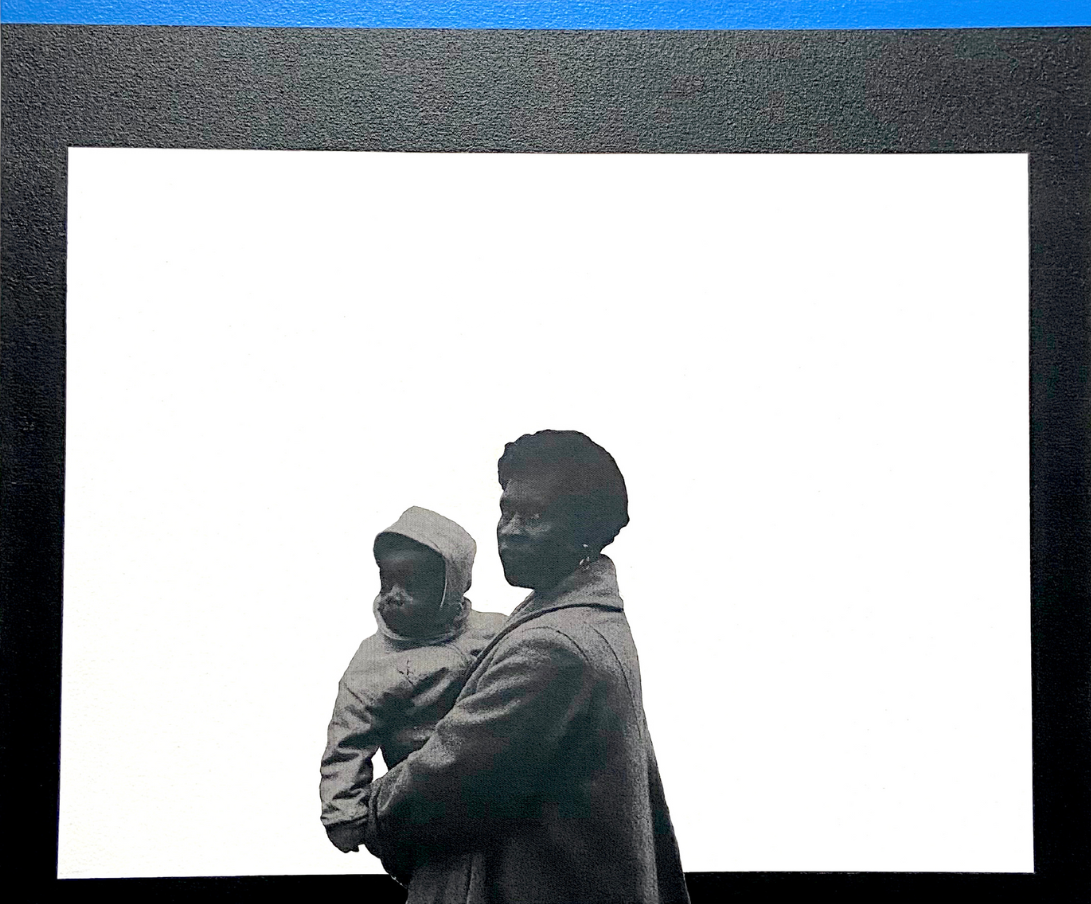 Somewhere Around There
April 14 - June 11, 2023
Nishiki Sugawara-Beda
Nishiki Sugawara-Beda draws upon her Japanese heritage and adopted cultures to explore themes related to traditions, languages, and spirituality rooted in Zen teachings. The series, KuroKuroShiro, offers psychological and internal spaces where viewers can privately immerse themselves in their own world.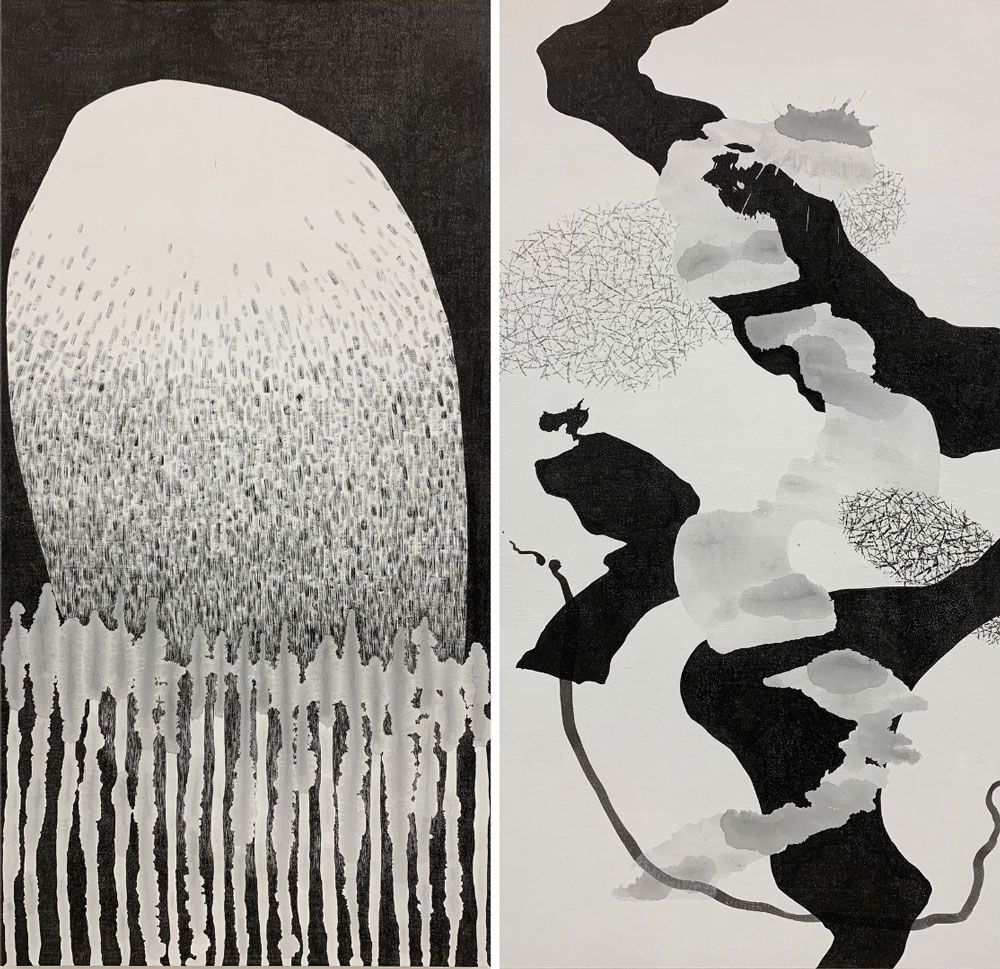 Relics
February 3 - April 2, 2023
Frank Poor
Frank Poor's architectural sculptures emerge from a personal and complicated relationship with the American South. His process involves combining images taken on trips home to Georgia with their corresponding forms such as church steeples, store windows, and chimneys.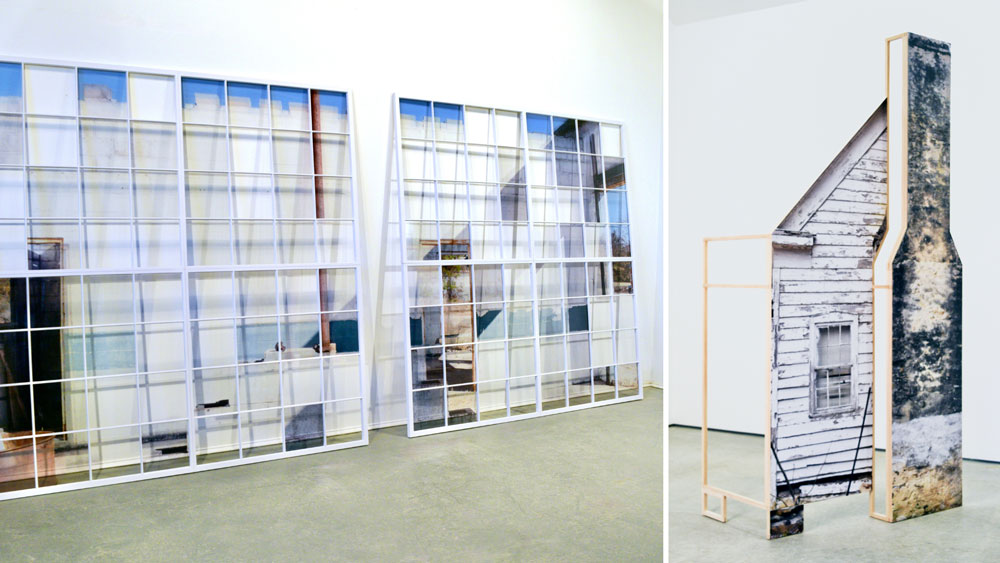 Transmuting the Prosaic
December 2, 2022 - January 22, 2023
Roger Clark Miller
Roger Clark Miller's vinyl record-based installations explore naturally occurring events often considered ordinary, mundane, or unwanted: traffic patterns, rock formations, record surface noise, the structure of dreams. He transforms everyday occurrences and opens doors behind them to present them from a contrasting viewpoint, revealing unexpected beauty.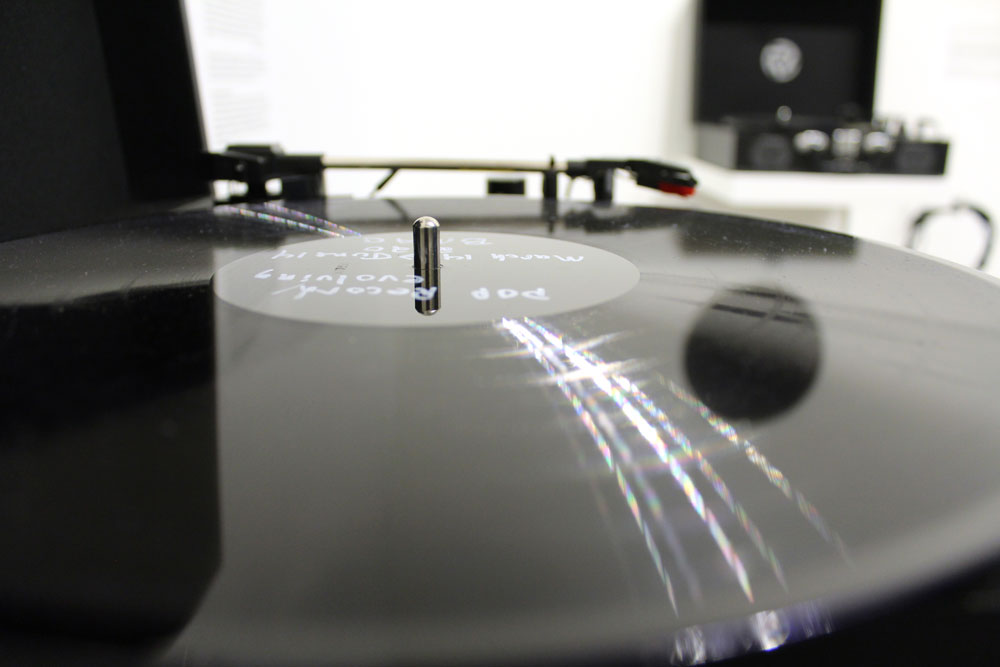 Walking Out of the Shadows
November 26, 2022 - January 29, 2023
Sarah Nguyen
Sarah Nguyen's hand-cut fiber panels dissolve the boundaries between waking life and dreams. Using abstract and representational forms, Sarah severs the connection between shape and meaning, connecting the viewer instead to the gesture of the brush or cut of the knife, so they become complicit in the art. Folklore, reverence and refinement of nature, and observance of daily life are concepts behind her work.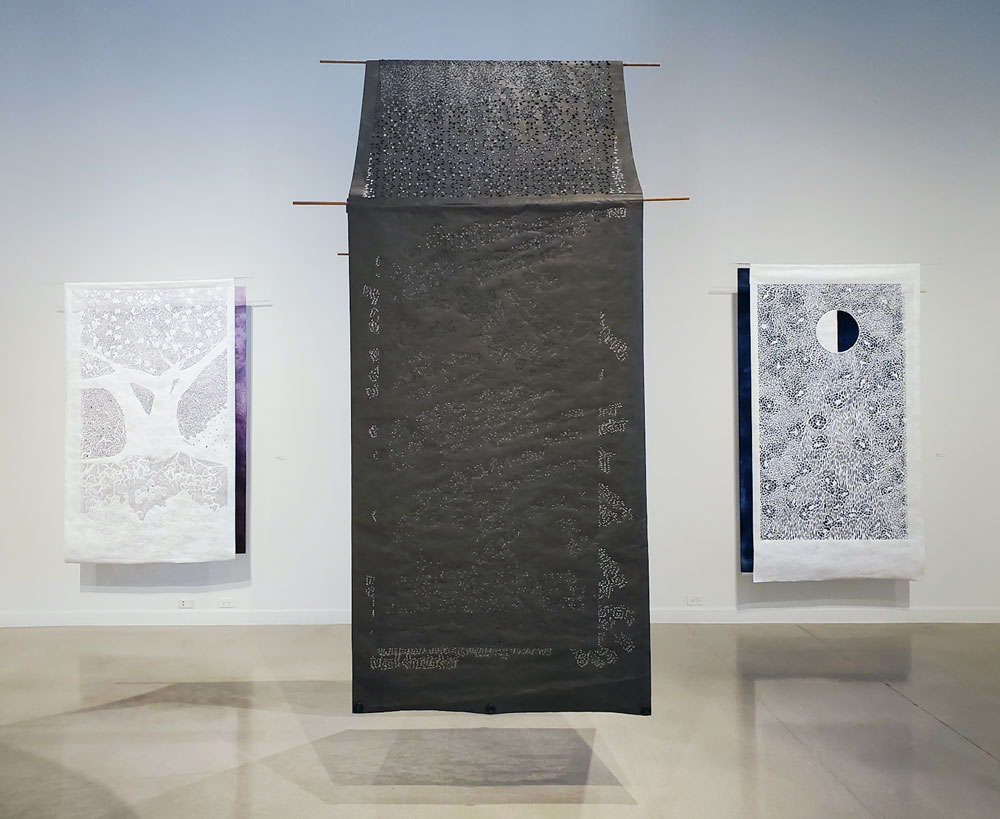 Punto in Aria: A Repairing Mend
October 7 - November 13, 2022
Patricia Miranda
Patricia Miranda's work explores the labor of care by women through mending, remembering, collecting, and preserving, in repurposed textile installations created with donated lace from The Lace Archive, an historical community archive of lace and family histories.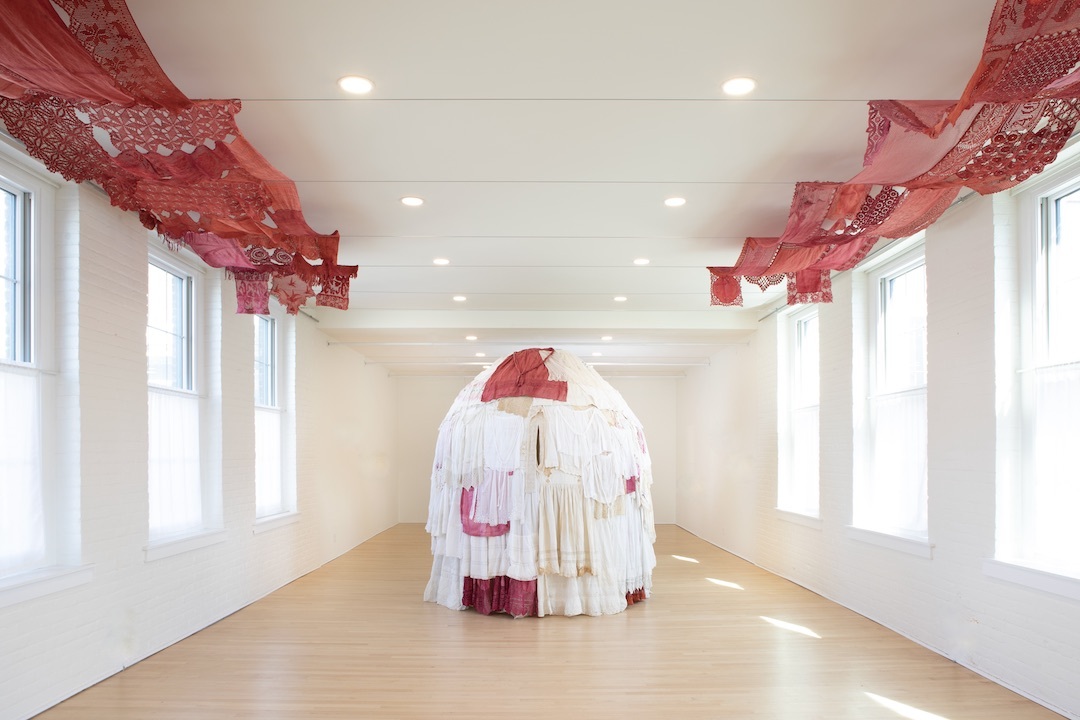 Keeping Track of Time
August 5 - October 2, 2022
Philip Brou
Philip Brou is an artist and amateur runner. Running every other day for much of his life has served as both exercise and a meditative practice. During 2021 he brought his studio practice and running together; making a drawing to document each time he went running, for a total of 197 drawings. The metronomic rhythm of running one day and drawing the next stitched together a time that felt otherwise fractured. The artist views the project as a type of clock that processes days by both running and slowing down; creating a very specific way of keeping track of time.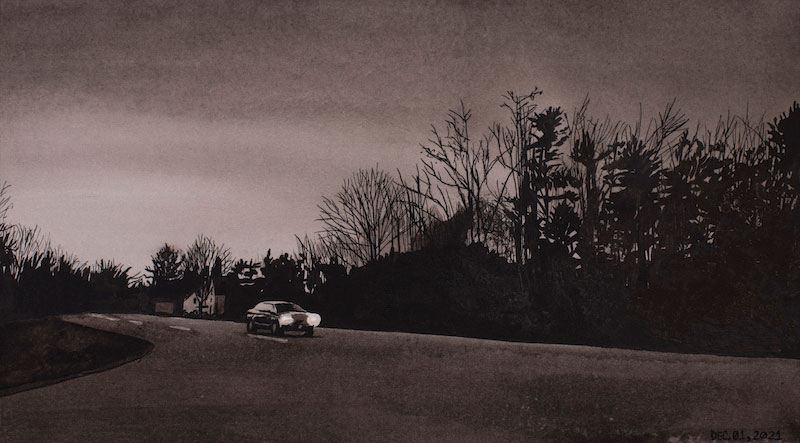 Hall of Portraits from The History of Machines
June 3 - July 31, 2022
Sue Johnson
"Mining the archive is like building a time machine; I look at the material culture of the past as a way of understanding what has come into being in our contemporary times." – Sue Johnson
Exhibit Statement:
All spaces hold art in different ways. With Sue Johnson's exhibit, 3S Artspace is not only exhibiting Sue Johnson's first solo show in New England— 3S is also providing the first opportunity for the artist to exhibit nine monumental works in a single space. Each of Sue's works is extraordinary and thought-provoking on its own, but shown together, they create a singular and timely experience for artist and viewer, enveloping us in a surreal interpretation of the role of women in the home and in society.

Artist Statement:
Sue Johnson's Hall of Portraits from The History of Machines constructs a disquieting satire that proposes an alternative pictorial history in which two objects of desire become one — the household convenience object and the emergent female form.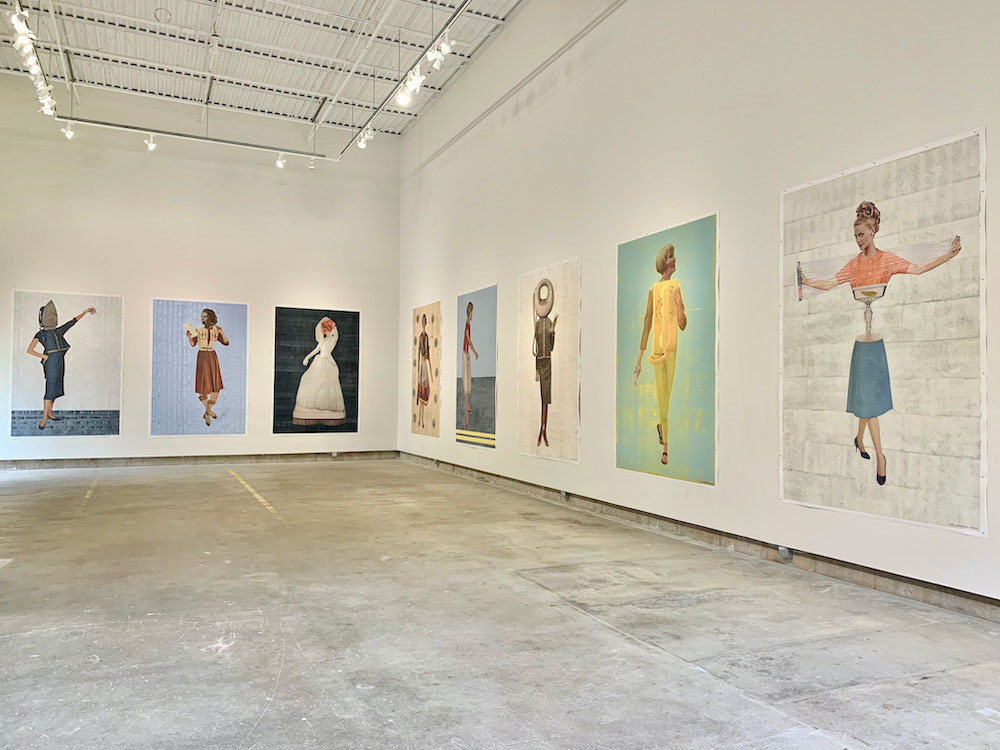 Dispatches From the Border
MAY 6 - 29, 2022
Patrick Patterson and Anastasiia Zazuliak

Dispatches From the Border offers photographic narratives on the war in Ukraine from the perspectives of Anastasiia Zazuliak, a Ukrainian photographer living in Poland, and New Hampshire Seacoast resident, Patrick Patterson.

"How can I help?" is a question we've collectively asked one another since late February when the war began. By exhibiting this work, 3S Artspace seeks to emphasize our support of democracy and freedom of expression. The arts can play a critical role at a time when we need them the most.
Universality of the Human Experience
FEBRUARY 2 - MARCH 31, 2022 (Lobby Gallery)
Richard Haynes

Artist Statement:
"I offer you my current exhibit against a backdrop of world crises in health and education, in climate and environmental destruction, in poverty, in immigration. I am concerned that world leaders are in a state of moral decline. They neglect to listen to what their quiet inner spirit would guide them to do: make the world just for every human being. I believe that only through a significant shift in values, only through a spiritual transformation, that "a change gonna come." Will that change have finally come? What will future generations learn about our world when they look at these drawings decades from now?" —Richard Haynes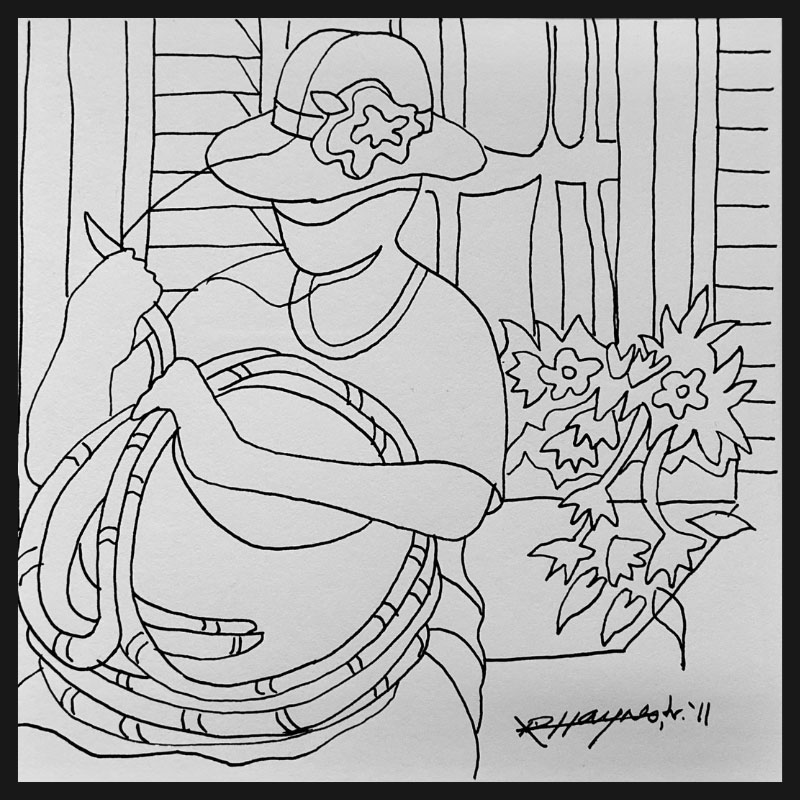 Where Everybody is Somebody
JANUARY 7 - MARCH 20, 2022
Henry Horenstein

Artist Statement:
"Over the years I've photographed many different types of subjects, even animals and the human form. But I've always returned to my roots as a documentary photographer. More than anything, I like a good story. And I try to tell one in a direct way, with humor and a punch line, if possible." —Henry Horenstein

Vision and Visibility
NOVEMBER 19, 2021 - JANUARY 2, 2022
Leslie Anne Condon / Laura Di Piazza / L'Merchie Frazier / Hai-Wen Lin / Julia Marden / Jasmine Milton / Ashley Page / Yasamin Safarzadeh / Aina Sullivan / Cynthia Velásquez-Owen / Evelyn Wong

Exhibit Statement:
Work by emerging, New England-based BIPOC visual artists offers unique insight into perspective, perception, and the personal, as well as cultural identity. Presented by 3S Artspace and Black Heritage Trail of New Hampshire in an effort to make visible the work of contemporary BIPOC artists.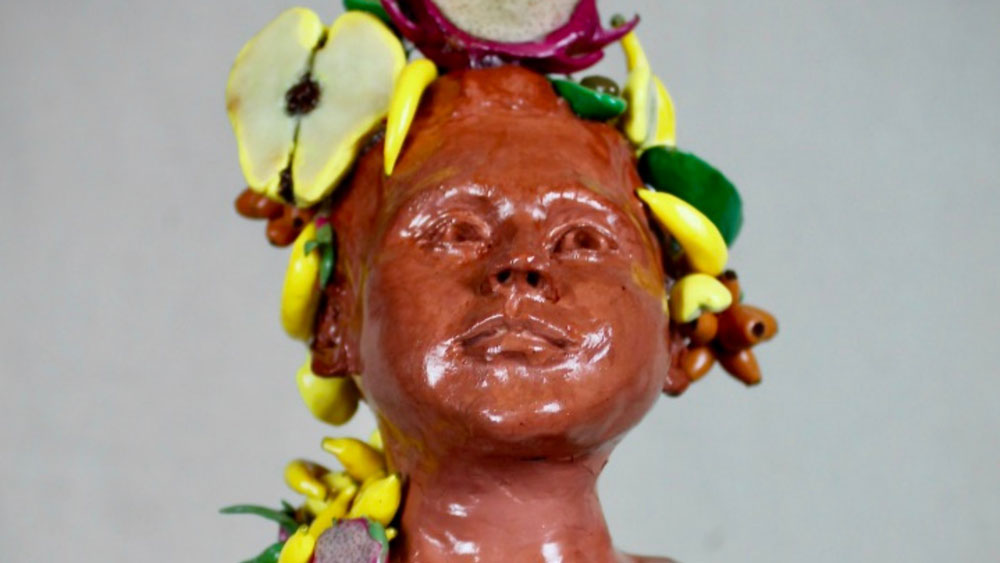 A Quiet Reach
NOVEMBER 19, 2021 - JANUARY 2, 2022
Daniel Minter

Exhibit Statement:
Painter, sculptor, and assemblage artist Daniel Minter explores common echoes in visual languages of the Afro-Atlantic diaspora. A Quiet Reach focuses on Maine's Malaga Island and the forced removal of its interracial community in 1912. Presented by Black Heritage Trail of New Hampshire and 3S Artspace.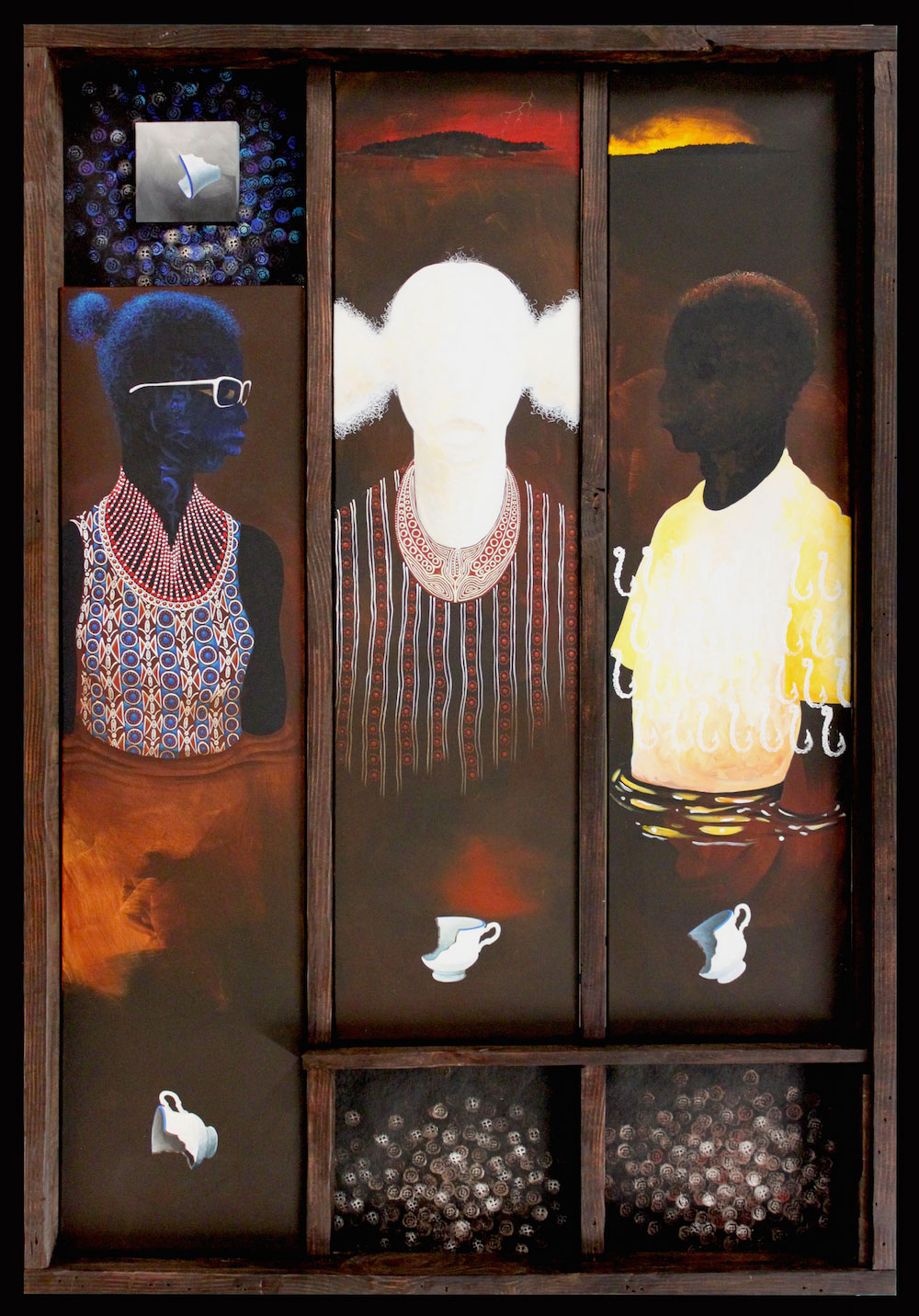 Culture Keepers, Culture Makers: Student Exhibit
NOVEMBER 19, 2021 - JANUARY 2, 2022 (Lobby Gallery)
MHB / Lisa Burk-McCoy / Alizah Coraccio / Jiff Cornwell / Beth Falconer / Jan Fonseka / Nihco Gallo / Mark Giuliucci / Amanda Howerton / Kiyoshi Imai / Arul Mahadevan / Nancy Vanbenschoten / William Wright / Gabriela Yeshua

Exhibit Statement:
In the fall of 2021, 3S Artspace welcomed selected students to participate in free art workshops led by artist Richard Haynes. The art workshops represented the next phase in the series which began at 3S in the spring of 2021 with weekly public conversations on culture's influence on race and equity.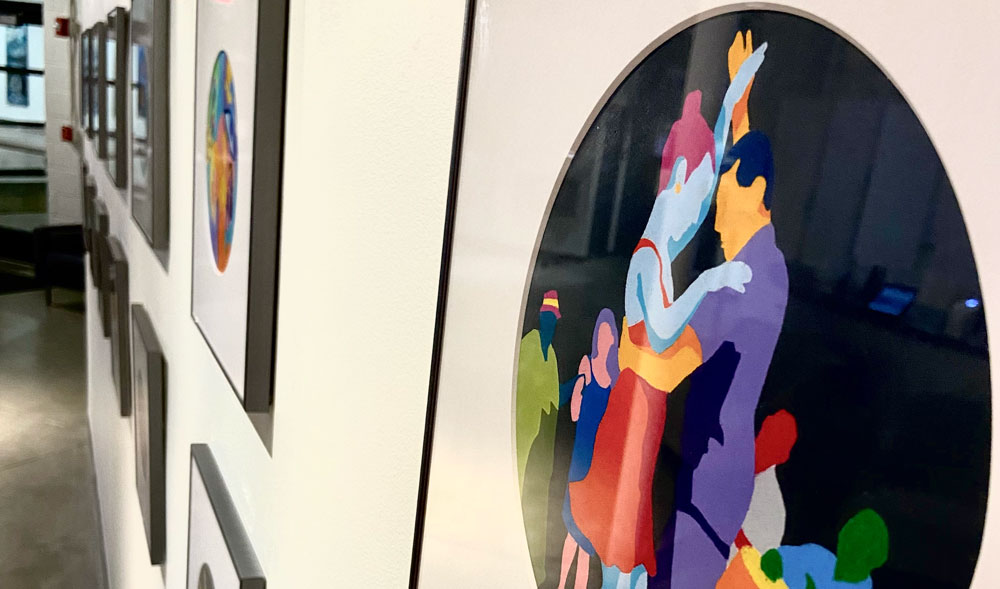 The Lady of The Woods
OCTOBER 29 - NOVEMBER 9, 2021
Kim Massaro

Artist Statement:
The Lady of the Woods series in charcoal brings to mind gravestone rubbings, while the dark but heroic themes, limited palette, and her free style nod to comic books, graphic novels, and fantasy art. An unfamiliar character, the Lady is an embodiment of death, like her brother, the Grim Reaper. While the Grim Reaper's domain is open space, she, instead, presides over the woods.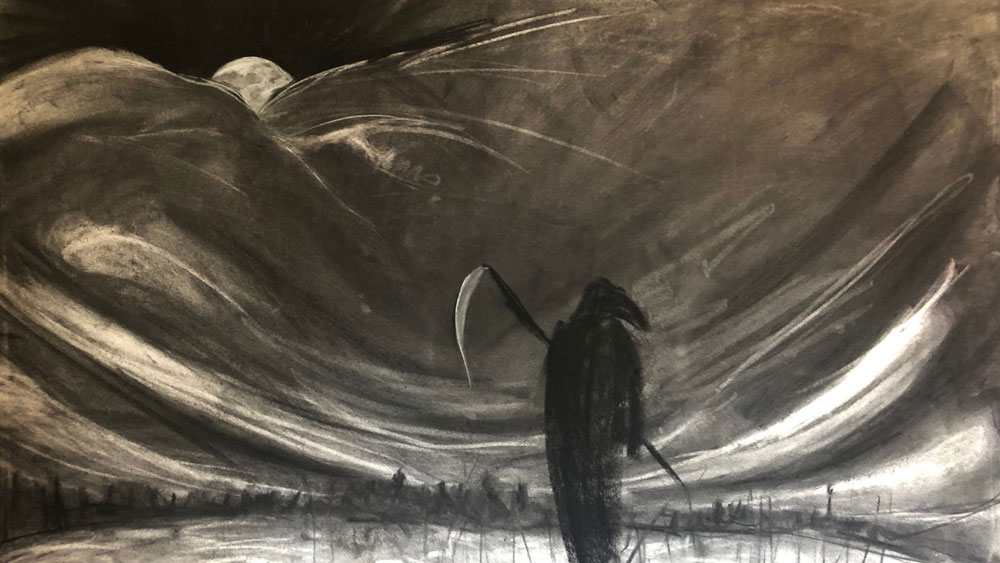 Telling Stories
SEPTEMBER 3 - OCTOBER 24, 2021
Lynne Barr

Exhibit Statement:
Exterior shapes and interior spaces • At first glance, artist Lynne Barr's arresting geometric sculptures feel complete. It is not until you step closer and engage with them that they begin to tell their stories. Why are some things hidden? How do ideas and beliefs become mainstream? Who are the storytellers of today? Is it possible to hold onto a belief and still make room for others?

Artist Statement:
Telling Stories is a show which puts atheism on an equal footing, in a public space, with theism.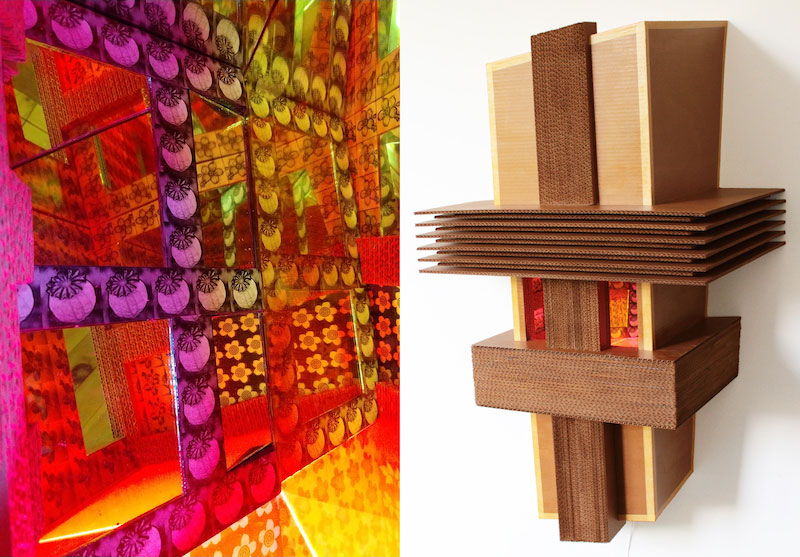 Becoming Grey
SEPTEMBER 3 - OCTOBER 24, 2021 (Lobby Gallery)
Nancy Grace Horton

Exhibit Statement:
Becoming Grey is a celebration of women's hair, identity, desire, and power.

Through audio interviews, video, and still photographs, Becoming Grey portrays women who defy stereotypical notions of greying and gender beauty. Photographer Nancy Grace Horton coaxes women to flaunt their grey hair and explore the feelings and motivations behind the search for identity in hair color. Designed to confront expectations and provoke conversation, the Becoming Grey installation embraces every woman's journey, and advocates for realistic representations of female identity
Transitions and Meditations
JULY 2 - AUGUST 22, 2021
MJ Benson / Shanna Fliegel / Lana Vogestad

Exhibit Statement:
The artists' work featured in Transitions and Meditations offers both a literal invitation to meditation as well as an opportunity to reflect on nature as nurture and the power of creative expression to help us process events and emotions.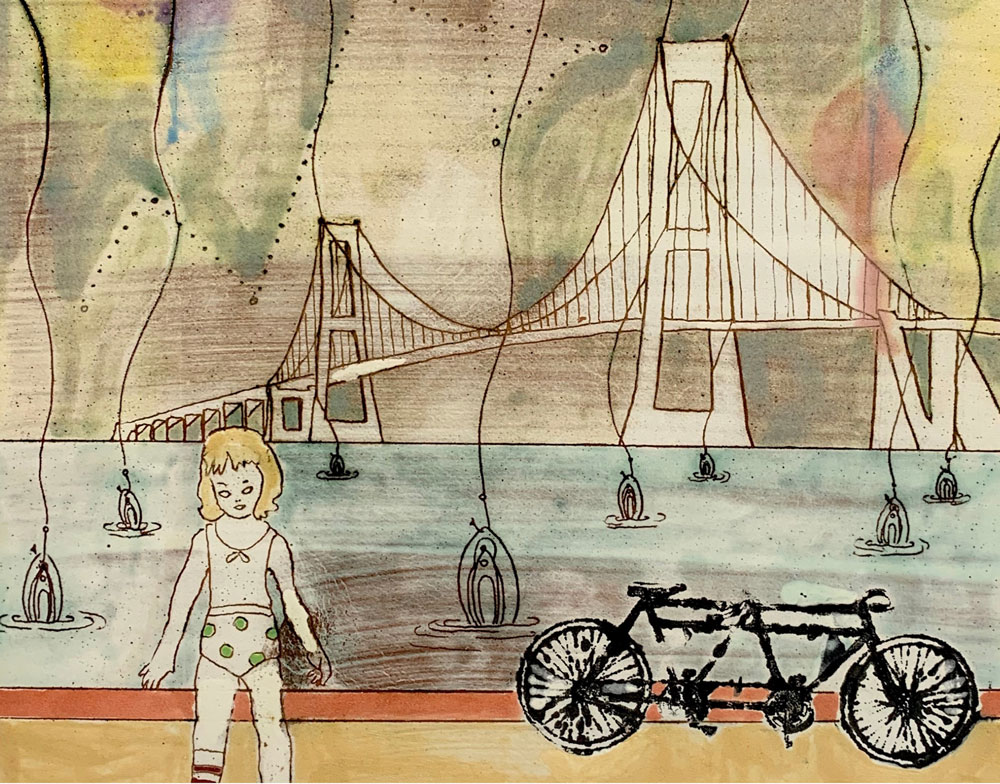 Life is Drag: More is Better and Never Too Much
MAY 7 - JUNE 27, 2021
Rachel Rampleman

Artist Statement:
Rachel Rampleman creates bodies of work that explore subjects like gender, artifice, and spectacle. She showcases exuberantly bold and irrepressible personalities who revel in challenging common clichés associated with masculinity and femininity.
Off-Color
MARCH 5 - APRIL 25, 2021
Cody Mack

Artist Statement:
Cody Mack works with a material called Pennsylvania Bluestone, creating objects, color schemes and abstractions referring to its own materiality. Using both predetermined and subjective aesthetics in his paintings, prints, and sculpture, Mack presents his own paradox exploring language, composition, line and color.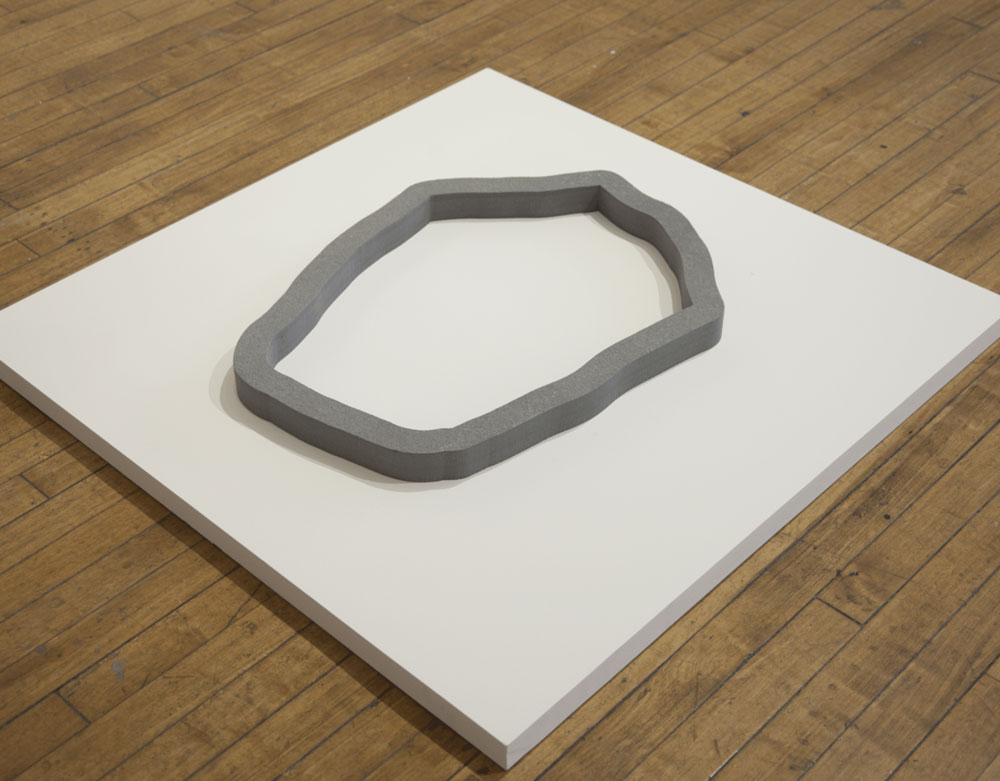 Ordinary, Elusive
MARCH 5 - APRIL 25, 2021
Steve Novick

Artist Statement:
Have you ever become fixated on a word ("rooster", say, or "barrel") and repeated it in your head, over and over, until its sounds became alien—practically divorced from language? That sort of game, between sense and its absence, also may play out in a visual arena. Steve Novick's sculptures attempt to take advantage of that possibility, though that is not the exclusive aim.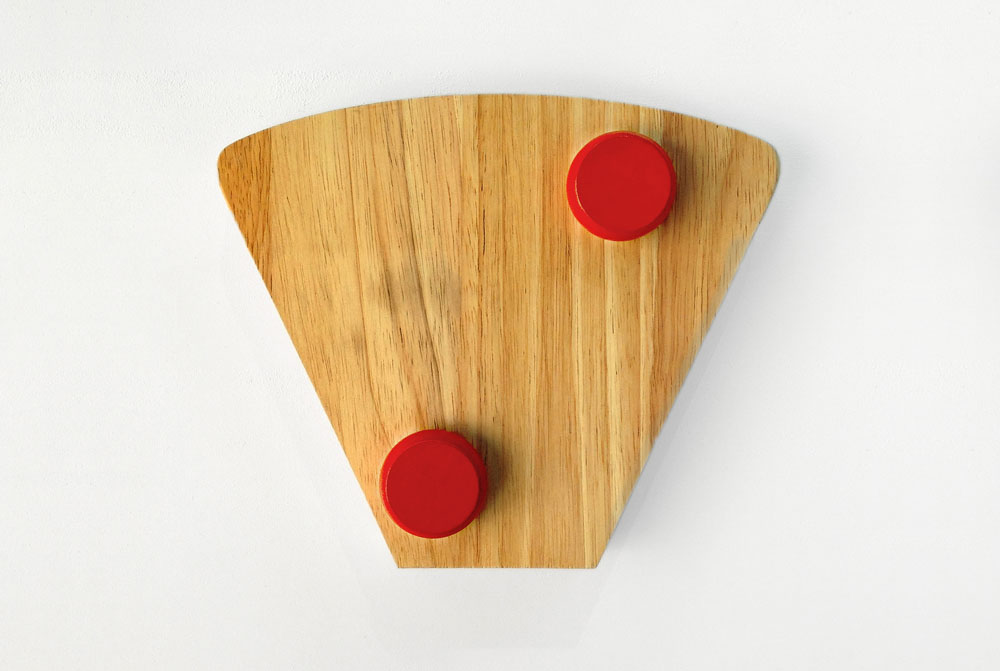 Every Other Line
MARCH 5 - APRIL 25, 2021
Jim Zingarelli

Artist Statement:
With influences ranging from jazz improvisation to color theories, from Vermeer to Albers, from Dostoevsky to Emmanuel Levinas, Jim Zingarelli's new body of paintings rhythmically improvises its way through the diverse issues where "the face of the other" becomes the means by which individual works (and we as individuals) find identity.

Phantasmagoria
JANUARY 8 - FEBRUARY 28, 2021
Mia Rollins

Artist Statement:
Mia Rollins' work in Phantasmagoria explores the murky divide between memory and imagination, science and magic, and posits that all good moments in time are never lost- they merely turn into a kind of dormant magic, waiting to be conjured up whenever and wherever we need joy most.
Cluster
JANUARY 8 - FEBRUARY 28, 2021
Craig Hill

Artist Statement:
In combining his Surrealists interest in the unconscious with a postmodern sensibility, Craig Hill creates evocative paintings and collages that are distinctively psychically charged.
woven female landscape
NOVEMBER 20 - JANUARY 3, 2021
Linda Pagani

Artist Statement:
woven female landscape addresses the complex relationship between female and feminine identity. The work draws attention to the questions contemporary women face in constructing a present-day definition of 'womanhood.' A series of sculptures and installations portray tradition, domesticity, and sensuality of the female form through cloth, paper, and porcelain.



Dysfunction of Aesthetic Forms and Their Opposites
AUGUST 7, 2020 - JANUARY 3, 2021 (Lobby Gallery)
Eric Katzman

Artist Statement:
We know that memory is very plastic and easily deformed. This idea is the seed that gives form to the internal dialogue that shapes how I paint. My visual vocabulary, through impressions and memories, is grown and developed. Like gardening, I prune branching ideas and images, discarding elements while emphasizing others. My mark making is the gentle unfolding of surface, interplay of form, undulating lines and hard geometric shapes. These works, which were painted in the past eighteen months, create nonfunctional visual narratives of memory.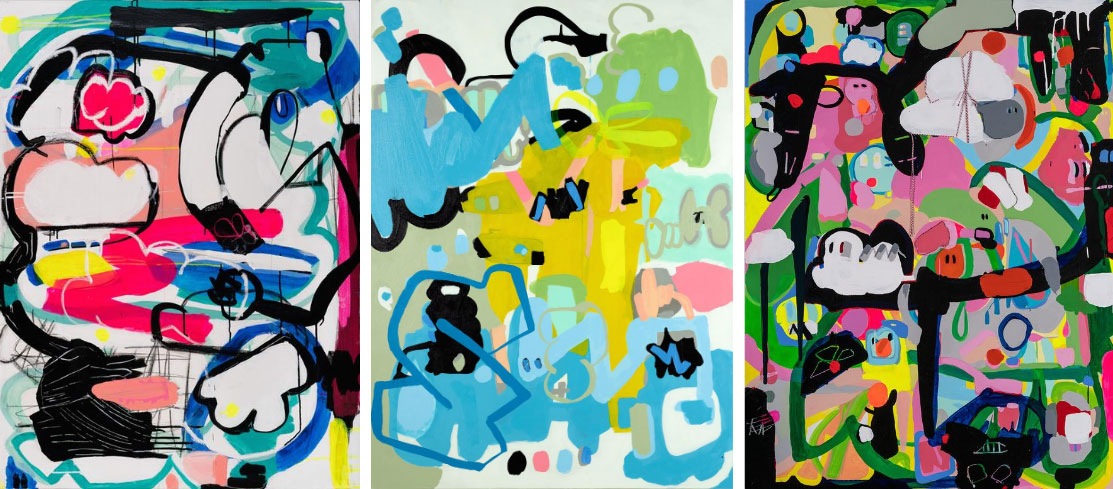 Your Leader Could be a Tyrant, How to Tell
SEPTEMBER 11 - NOVEMBER 1, 2020
Tatana Kellner

Artist Statement:
"My work is rooted in social issues...I feel compelled to create and present work in order to engender conversation and dialogue...I find the rise of ultra-nationalism, protectionism and the worldwide threat to the democratic principles very troubling...This exhibit features paintings highlighting contemporary tyrants and their odd habits." - Tatana Kellner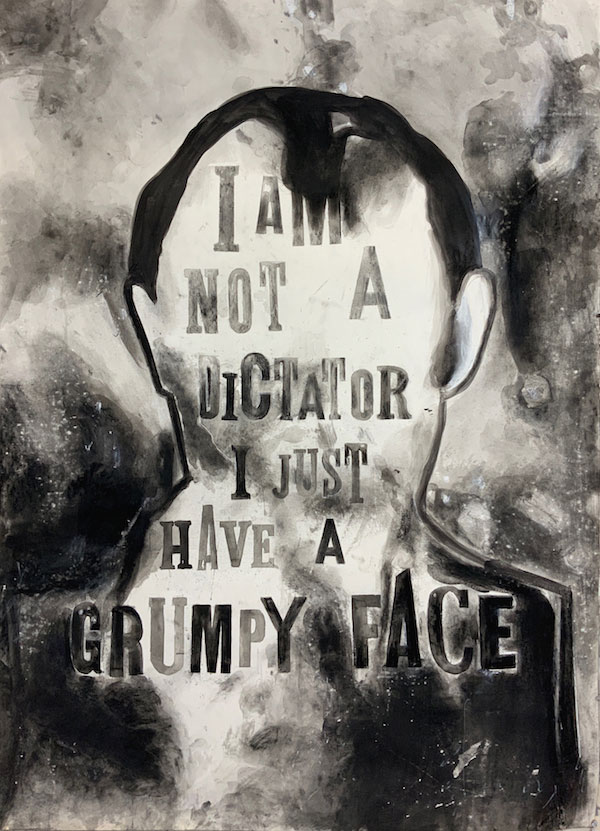 50 Views of the Piscataqua
JULY 24 - SEPTEMBER 6, 2020
Rachel Burgess

Exhibit Statement:
Using drawing and monotype, I create iconic landscapes of Maine and Massachusetts that explore the connection between memory and storytelling. I'm fascinated by the discrepancy between what we see and how we remember it. By editing, abstracting, printing and reversing my landscapes, I give physical form to the process we perform internally when we convert an experience into a memory. The results are images of places as seen through my mind's eye, fabricated versions of real scenes.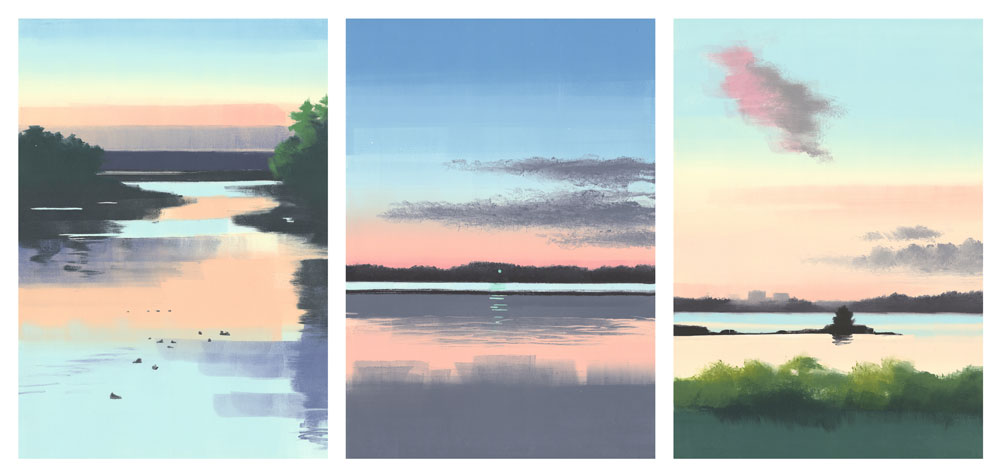 Abstraction
JULY 24 - SEPTEMBER 6, 2020
MJ Blanchette, Rebecca Klementovich, Kathleen Robbins

Exhibit Statement:
Walking the line between figuration and abstraction, this exhibit explores the non-objective role abstract art plays in our culture, perception, and psyche. Using diverse subject matter, three painters created work reflecting their personal experiences. Not surprisingly, the experience of painting during a global pandemic found its way into the visual language of interpreting the world around them.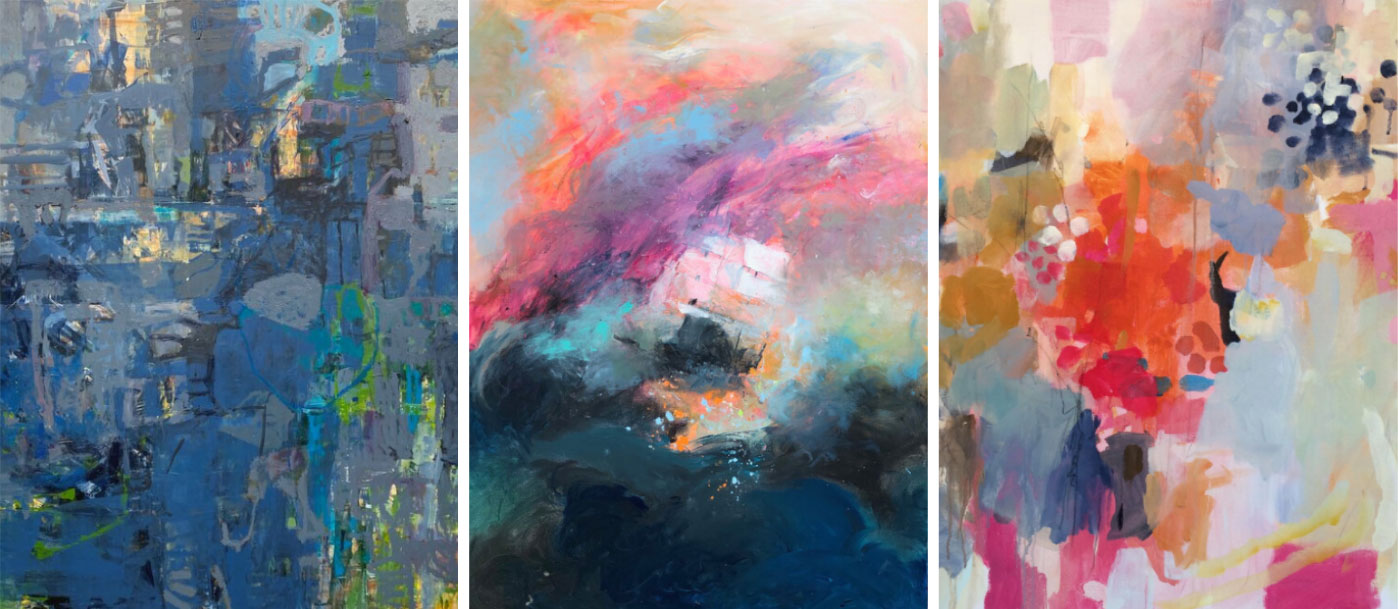 Life is Drag: Virtual Edition (virtual exhibit)
MAY 1 - JUNE 21, 2020
Rachel Rampleman

Exhibit Statement:
Brooklyn-based multimedia artist Rachel Rampleman creates bodies of work that explore subjects like gender, artifice, and spectacle. Utilizing processes ranging from directorial to curatorial to anthropological, she showcases exuberantly bold and irrepressible personalities who revel in challenging common clichés associated with masculinity and femininity.

During her residency, Rachel met with 21 New England-based drag artists, and captured compelling interviews, stunning photographs, and transcendent performances that have become a part of her growing Life is Drag archive. This was her first opportunity to create a large number of video portraits as part of a residency, and she found herself in awe of the wide range of talent she encountered at 3S, the unbridled creativity, confidence, boldness, and power of the performers, and the exuberant and liberating energy and feelings they inspired.



mirror IV
FEBRUARY 7 - MARCH 2020
Amy Stacey Curtis

Artist Statement:
My focus is interactive installation. My works physically exist as art only while installed and activated by audience. Participants literally complete this imagery, invited to perpetuate and resolve the installations in specific ways. Once dismantled, each work exists and continues only through documentation and the memory of its participants. My installations have never really been my own. Participants are collaborators, part of the work and event as a whole. Without audience, my installations are static and unfinished. Each installation includes instructions, as much an element of this work as the audience. Participants use this guidance to influence, alter, maintain, progress, and distinguish, becoming part of each work.

For each installation, I have a desired vision, progression, and result which I initiate. But, by relinquishing the concept over to the audience, my work sometimes proceeds in ways I could never anticipate. This aspect, also, is a crucial part of the work. As each participant effects each work in his or her own way, I try to convey we are part of a whole, part of the all. We affect everyone and everything, while everyone and everything affects us, no matter how small or fleeting the impact.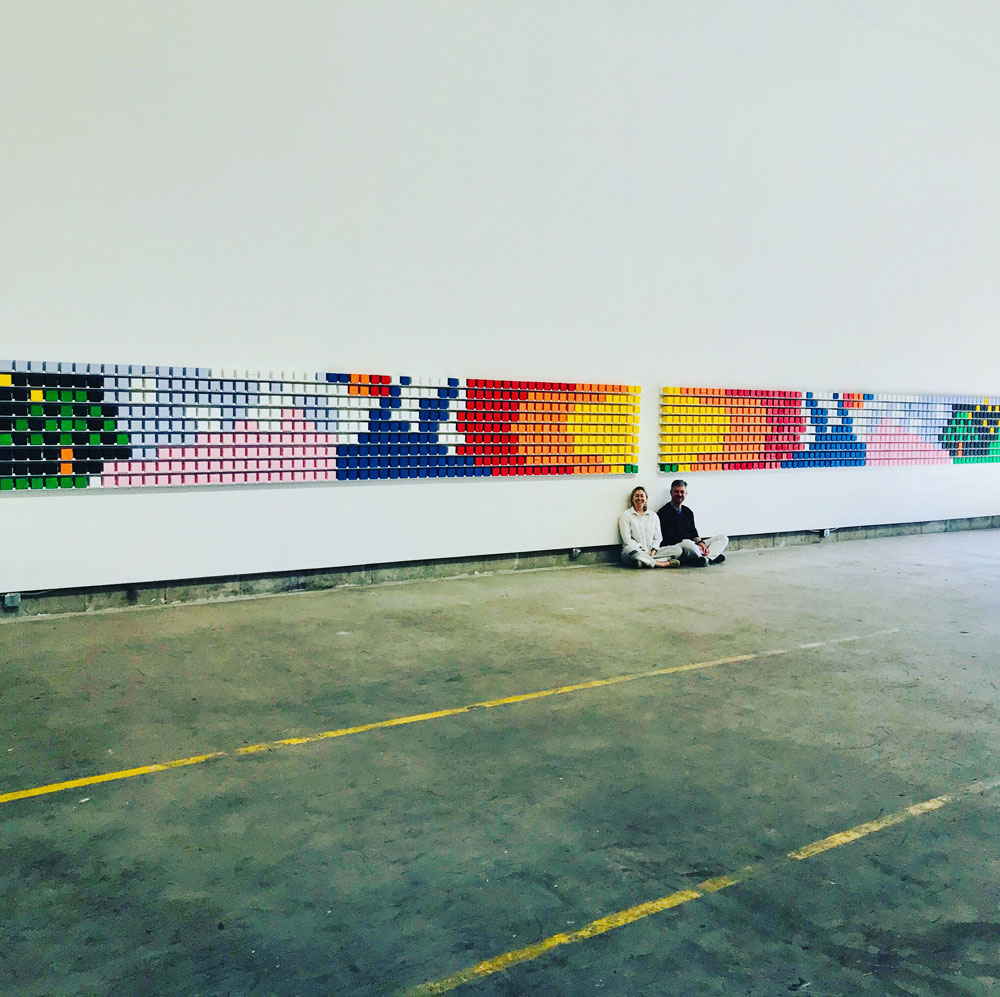 Patio Life
FEBRUARY 7 - MARCH 2020 (Lobby Gallery)
James Collins

Artist Statement:
The camera provides an up-close peek at my fellow patio dwellers whose respective behaviors pique my curiosity and intrigue me. All subjects seen were photographed outdoors in my backyard or front porch; none were harmed. Whether planting a single flower or large garden—you won't have to travel far to find interesting neighbors if you look close enough.



Laurentidian
JANUARY 10 - FEBRUARY 2, 2020
Ciara Wright

Artist Statement:
No longer can we be sedate in our relationship to place. The Western world has seen its colonization and consumption of the Land as an exercise of eminent domain, unaware, or insensate to the fact that the impacted Land has a reciprocal effect upon its inhabitants. In 2020, we can no longer ignore the effect the changing environment has upon us. As this major cultural transition envelops us, we must redefine and reevaluate our relationship to Land, not only as fuel for the raw engine of capitalism, but in its capacity as a cultural reliquary for memory and narrative.

Through installations, sculptures and drawings that focus on the psychology of Land, Ciara Wright's work humorously interferes with preconceptions of our relationship to place. With the use of sound and other interactive components, Wright toys with the possibility of manifesting Land's agency, giving it a 'voice' in the contemporary examination of our complicity in a deteriorating natural world.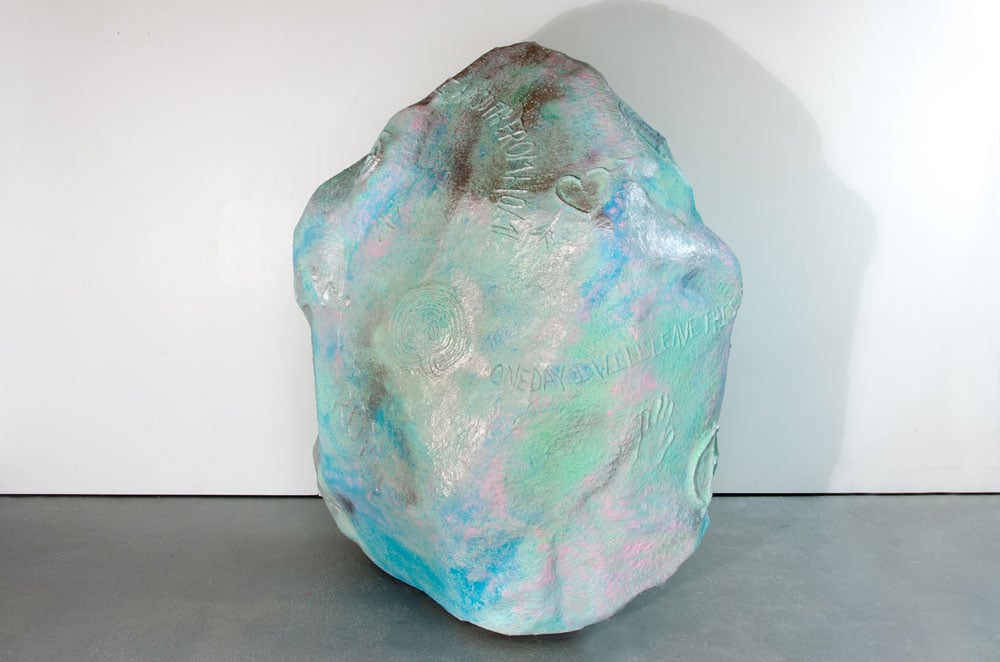 Room for Memory
NOVEMBER 22, 2019 - JANUARY 4, 2020
Heather Morgan

Artist Statement:
Heather Morgan's oil paintings depict figures (mostly women) that are performing their identities. It is a tense and fevered display, aching with self-consciousness. The possibilities for self-creation are illustrated in a succession of vivid characters based on the artist and her acquaintances.

Vivid and theatrical as these images are, the viewer is thrust into discomfiting intimacy with these defiant characters. These works invite the viewer to look and to covet, presenting an alluring world that is also potent and seething. Beauty quivers with pain and flaw in the distorted, luminous subjects that populate Morgan's paintings. These unflinching yet vulnerable pastel heroines become all the more unknowable, as they reveal themselves in their fractured splendor.