All Performances
Lore of the Jack-O'-Lantern Release Party w/ Doctor Gasp and The Eeks
Now on sale!

Lore of the Jack-O'-Lantern
Written by Brian Serven / Illustrated by Dan Blakeslee
Release Party
w/ Doctor Gasp and The Eeks (a.k.a. Dan Blakeslee)
Friday, September 30
Doors 7pm / Event 8pm
$15 Members / $20 General Admission
All ages / Seated
Join us for a theatrical book reading and music performance! Inspired by the spirit of Halloween and inherent nature of humans to share scary stories, the night begins with a reading of the Lore of the Jack-O'-Lantern novella, narrated by Brian Serven, who will be joined on stage by character voice actors including Beth LaMontagne Hall (Host of Long Story Short), Timothy Fife (Film Composer), and Andy Bryant. While the story is being read, illustrations from the book will be projected upon a screen!
After the reading, there will be a music performance by Doctor Gasp and The Eeks (Dan Blakeslee's Halloween alter-ego).
Novella synopsis:
Lore of the Jack O' Lantern , written by Brian Serven and illustrated by Dan Blakeslee, is a thriller/horror novella set on Halloween night in a small town in New Hampshire. As seething sweets seekers troll the streets, a local gang of outcasts known as the Ferals desperately search for their missing friend, Alfie. It seems Grandma Collins' old-country stories about Stingy Jack have come true and the carved pumpkins on porch steps aren't warding off evil...the Jack-O'-Lanterns seem to be inviting it.
The veil between the living and dead is thin and children's souls are irresistible. Caitlin, her little brother Orin, and their friends Grace and Julien must face the thing that lurks in the dark to rescue Alfie...before it's too late.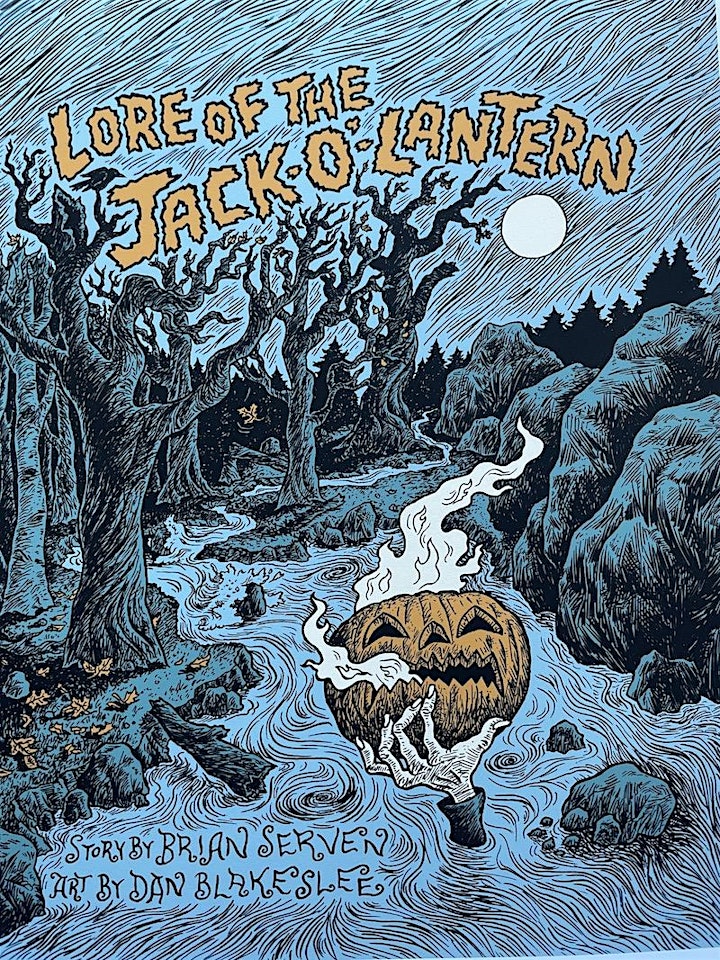 About the author Brian Serven:
Brian Serven has been fascinated with spooky stories, ancient myths, and eerie lore since he learned to read. Every printed word provided insight into the mystery of the unknown. Brian soon realized that the only thing more thrilling than reading these exciting stories was writing them. When not writing, Brian composes music, studies the art of the empty hand, explores small towns, and revels in the company of family.
About Illustrator Dan Blakeslee and his alter ego, Doctor Gasp and The Eeks:
Do you distaste the flavor of wax lips? Throat sore from cackling like a phantom? Well...don't lose your head! Haunting can be daunting...and to be Frank; a pain in the neck! This season leave all the ghoulishness to that maniacal minstrel...Doctor Gasp! Beneath the mask of this phantom is New England musician Dan Blakeslee with his unique bag of all original songs of Halloween oozing with vampires, Jack-O'-Lanterns and ghastly creeps. Blakeslee's songs are a throwback to old-time cult horror themes, giving nods to Bobby Pickett (Monster Mash), Alfred Hitchcock, John Zacherle and the cavernous voice of Paul Frees. Every October the unexpected spectacle Doctor Gasp rises from the shadows delivering an earful of eerie for the young, old...and immortal.
In October of 2001, Dan Blakeslee wrote a song "Witchtrot Road" about a street of local legend in South Berwick, Maine. He presented this ghoulish tale a few days before Halloween and was asked about releasing it on vinyl. With a few more spooky morsels the collection was released in 2003. After 10 years a new album "Vampire Fish For Two!" has surfaced with his band Doctor Gasp & the Eeks! Rawr!
----
Click here to learn about our Health & Safety policies and measures.
Masks are strongly encouraged but not required during your visit to 3S Artspace.
By purchasing a ticket and/or visiting 3S, you are agreeing to follow 3S Artspace's health & safety requirements as they are on the date of your visit (not at the time of purchase). There may be exceptions or changes to our requirements for upcoming events, based on factors such as artist requirements and public health mandates.
Attendee Promise & Health Acknowledgement
All attendees agree to follow 3S Artspace policies and posted instructions during their visit. All attendees should evaluate their risk in determining whether to visit 3S. By entering the building, attendees voluntarily assume all risks related to exposure to COVID-19 and confirm they will adhere to both local and CDC quarantine requirements.
COVID-19 Warning
There is risk of exposure to COVID-19 in public spaces and there is no guarantee those attending an event will not be exposed to COVID-19.
Thank to our year-round Lead Sponsor: Raka.