Registration is now open!

New Moon Cacao Ceremony
with Empress Alchemy
in the Gallery at 3S
Thursday, January 19
7 - 8pm
$45
Join Sarah Comer of Empress Alchemy to celebrate the first New Moon of 2023 with a Cacao Ceremony.
This immersive and interactive meditation experience is designed to work with the energy of the cacao and astrology of the lunation. The ceremony will be held in the Gallery against the backdrop of an exhibition of artist Sarah Nguyen's work, Walking Out of the Shadows, which seeks to dissolve the boundaries of waking life and dreams.
New Moons represent the beginning of the lunation cycle and this first New Moon of 2023 sets the tone for what's to come in the year ahead. Expect to learn a bit about the astrology of this New Moon and then be guided through meditation exercises focused on intention setting for the New Year. Participants will be served ceremonial grade cacao blended with water to create a "hot chocolate" mix.
Ceremonial grade cacao is revered as plant medicine and has been used for thousands of years by indigenous cultures as a way to open up the heart space. Using cacao in this way facilitates heart healing and allows wisdom and guidance to be received through mind-body expansion. With this intention in mind, participants will then be guided on an inner journey using meditation and movement to bring forward and align with the healing wisdom of this plant.
Please plan to bring a blanket or pillow to sit on and a journal to write in.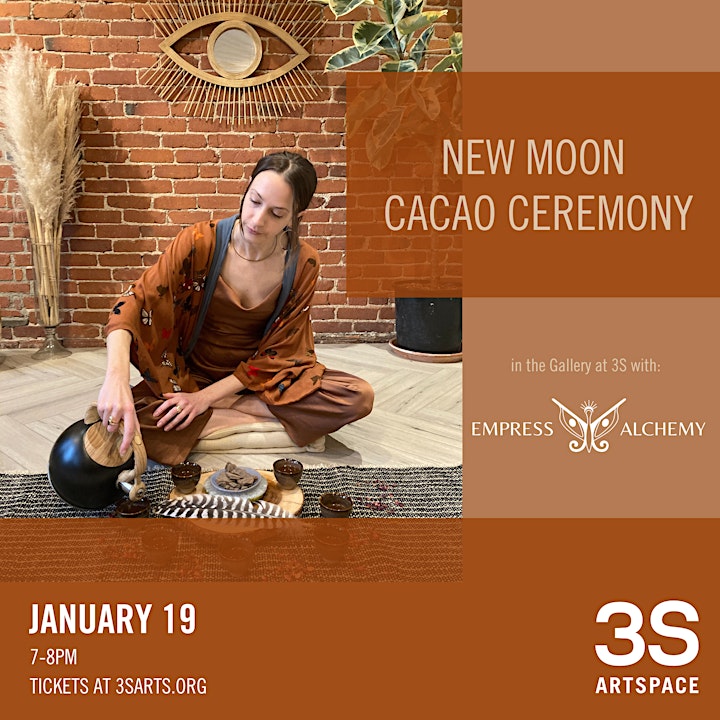 About Empress Alchemy / Sarah Comer:
Sarah is a certified Reiki Healer, Tarot Reader and Sacred Ceremony Facilitator who has spent the last decade navigating her own healing journey. Learn more.
"Now is the time to begin teaching and serve my community by sharing some of the modalities that have helped me most. I humbly enter this healing work as a result of lived experience, offering what I know, with the deepest respect to the spiritual source of all healing power, in hopes that these tools may serve and support each soul I meet."
Follow Empress Alchemy on Instagram: @empressalchemyhealing
----
Health & Safety:
Masks are strongly encouraged but not required during your visit to 3S Artspace.
By purchasing a ticket and/or visiting 3S, you are agreeing to follow 3S Artspace's health & safety requirements as they are on the date of your visit (not at the time of purchase). There may be exceptions or changes to our requirements for upcoming events, based on factors such as artist requirements and public health mandates.
Attendee Promise & Health Acknowledgement
All attendees agree to follow 3S Artspace policies and posted instructions during their visit. All attendees should evaluate their risk in determining whether to visit 3S. By entering the building, attendees voluntarily assume all risks related to exposure to COVID-19 and confirm they will adhere to both local and CDC quarantine requirements.
COVID-19 Warning
There is risk of exposure to COVID-19 in public spaces and there is no guarantee those attending an event will not be exposed to COVID-19.
Click here to learn more about our Health & Safety policies and measures.