SOLD OUT

Piebald (SOLD OUT)
w/ Worried Well and Donaher
Friday, December 17
Doors 7pm / Show 8pm
$18 Member / $20 General Admission Advance/ $25 General Admission DOS
All ages / Standing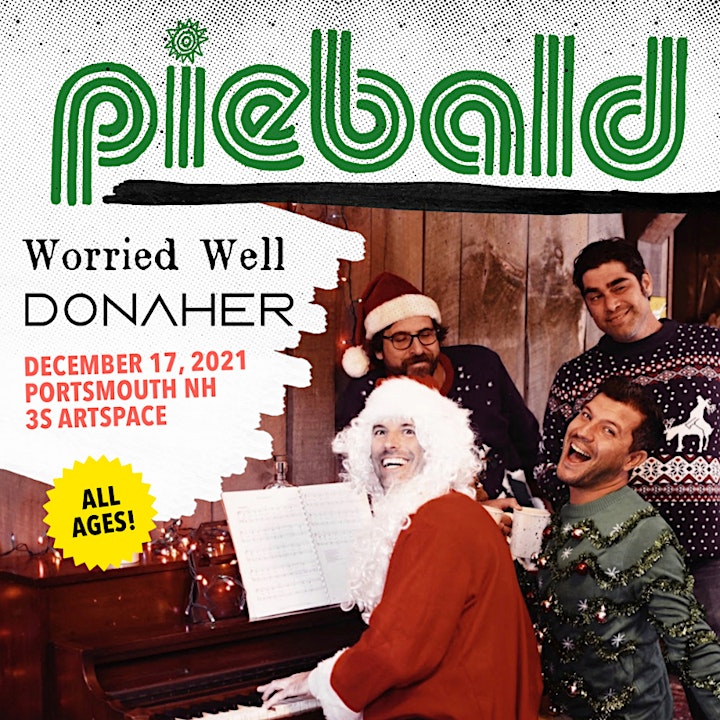 Emocore outfit Piebald formed in 1994 when vocalist/guitarist Travis Shettel, guitarist Aaron Stuart, bassist Andrew Bonner and drummer Jon Sullivan were still high school students in suburban Andover, MA. Sullivan left a few years later; Alex Garcia Rivera stepped in before the band ultimately settled down with Luke Garro behind the kit. Quickly becoming a staple of the Boston-area indie circuit, Piebald released their first album, When Life Hands You Lemons, in 1997 via Hydra Head Records. They followed up two years later with If It Weren't for Venetian Blinds It Would Be Curtains for Us All, which further presented the band's lighthearted spin on typical emo values, offering such song titles as "Fat and Skinny Asses." The EP The Rock Revolution Will Not Be Televised appeared in 2000 before Piebald amicably split to focus on life outside the band.
The following year, Boston-based imprint Big Wheel Recreation released the dual-disc retrospective Barely Legal/All Ages, which collected shaky recordings from their high school days all the way up through their 1997 debut; the set also included all of Piebald's early 7" EPs, some demos, live cuts (including a blistering cover of ' "I Saw Her Standing There"), and out-of-print tracks. During the break, Shettel also put out a solo record under the appropriate project name of Totally Travis. The band's separation didn't last long, however; Piebald announced their return in 2002 with We Are the Only Friends We Have, a fun-yet-mature album that was quickly embraced by fans and critics alike. A single from that album, "American Hearts," saw minor success on MTV and was even sampled a few years later by on his emo-laptop-rap "iGeneration." It was a year of unprecedented good fortune for the band, but things took a turn for the worse when Shettel had to undergo throat surgery. Shettel's health problems resulted in the cancellation of a string of live shows (opening up for , no less), but the band wasn't down for long. Shettel healed up in a few months' time, and Piebald headed back out on the road to headline with bands like , , and in tow. By early 2004, Piebald had inked a deal with Cali-based indie label SideOneDummy, and their next album, All Ears, All Eyes, All the Time, came out that May. Late in the next year, while the band toured with in their new environmentally friendly, vegetable oil powered van, the CD/DVD B-sides collection Killa Bros and Killa Bees was issued. Piebald's next proper full-length, Accidental Gentlemen, hit stores in January 2007. -- Erik Hage, Rovi
----
Click here to learn about our Health & Safety policies and measures.
Effective September 1, 2021, 3S Artspace requires proof of vaccination, or proof of a negative PCR COVID test within 72 hours of the event, for entry into all ticketed events inside the Performance Space. Masks remain strongly encouraged (when not eating or drinking), but are not required inside the Performance Space.
Please note: masks are required by all guests in the 3S Lobby, Gallery, and restrooms regardless of vaccination status.
Ticket purchases are non-refundable.
Thank you to our Fall Sponsor, GreenPages Technology Solutions, and to our year-round Lead Sponsors: Raka, PixelMedia, and The Stebbins Family.