WHY? Plays Alopecia
w/ Lala Lala

All ages / Standing 
$15 Members / $17 ADV / $20 DOS
"I'll go unknown by torpedo or Crohn's / Only those evil live to see their own likeness in stone." It's the kind of couplet you'd carve into a wall whilst savoring the irony at hand, but when Yoni Wolf spit the line ten years ago he was blissfully, broodily unaware that he and his band WHY? were creating a career-defining album—one so fan-adored that it would go out of print, and so influential that the art-pop heroine Lorde herself would lovingly steal the very lyric quoted above. When it dropped in 2008, Alopecia not only marked WHY?'s evolution from a sonically collaged mostly solo project to a live-recorded powerhouse band of badass multi-instrumentalists. It also minted a genre of one: wryly written, poignantly posed, simultaneously swaggering and heart-rending song-rap that jangles like folk, bursts like psych-rock, and sways like chamber pop. To this day, there is no other group in the known universe that sounds or feels like WHY? does on Alopecia. The album's 2018 reissue cheekily etches that aural likeness into our musical history.
Revisiting these songs is like catching up with an old, very strange friend—one who obsesses over his mortality, wonders if his ex is some sort of god, identifies as a "lifelong local foreigner," and does his emotional unpacking in public restrooms*. When Yoni sings that he's been "faking suicide for applause in the food courts of malls" on album opener "The Vowels Pt. 2," you aren't sure if it's a metaphor about fame or a real thing he did. Our narrator's odd charm is Alopecia's most enduring gift. Inspired by Bob Dylan and Joanna Newsom, Yoni packs confessional candor and vivid detail into honeyed melodies. Energized by Lil Wayne and MF DOOM, he seeds self-effacing boasts and mesmeric wordplay within complex rhyme schemes. The result is a swirl of humor, desperation, and beauty that both pulls us into his world and draws out our own proud, wounded inner weirdo. As Yoni coos on "The Hollows," "This goes out to dirty-dancing, cursing, backmasking, back-slidden pastors' kids / and all us Earth growths; some planted, some pulled."
That perspective formed in our hero's native Cincinnati—born in the basement of his rabbi dad's synagogue when lil Yoni started making songs on a dusty 4-track, and come of age in a different basement in his college years where, instead of graduating, he teamed with roommate Doseone and pal Odd Nosdam to form the revered avant-rap trio cLOUDDEAD. These family and friends haunt Alopecia—Dose raps on "The Hollows"; Nosdam is namechecked on "A Sky for Shoeing Horses Under"; Yoni's father and the language of faith appear often—creating layers of narrative for WHY?'s typically deep-diving fans to unpack. By 2008, Yoni was settled in Oakland, adding to the legacy of the Anticon label/collective he cofounded (most notably with his official 2003 LP debut Oaklandazulasylum). Though his brother Josiah Wolf and fellow Ohioan Doug McDiarmid moved west and joined WHY? before 2005's Elephant Eyelash, they had not yet recorded as a proper unit, or in a proper studio. Hell, Yoni'd never even tried to make his words rhyme before.
You already know that they did all of those things and were rewarded with Alopecia, an album as adventurous as it is accessible, and remarkably fluid. To wit, "These Few Presidents" slides between modes, from upbeat and forced-smile bubbly to seething and slowly roiling. "Song of the Sad Assassin" is a tempo-blind rollercoaster of piano, vibes, vocal percussion, guitar, drum, and bass. And "Twenty Eight" spins a feedback-drenched rap beat, something like the Bomb Squad on acid, on a carousel. WHY?'s mind meld is all the more impressive considering they left their jerry-rigged home setup for Minneapolis' Third Ear studio, in the winter, and added Fog members Andrew Broder and Mark Erickson to the lineup. Over 20 days, the thermometer never cracked zero. There were hot toddies aplenty, Miles Davis records on repeat, and cramped quarters. In this heady, unfamiliar space, Yoni worried it was all for naught. But while recording "Good Friday," a brutal breakup song, he caught full-body chills. It wasn't the blizzard outside.
The Alopecia sessions were so successful, in fact, that they spawned two LPs (WHY?'s fourth, Eskimo Snow, arrived 18 months later). This one was finished in Berkeley and when time came to name it, Yoni chose a word that appears nowhere in the lyrics. He'd recently found a hole in his beard which his old art-hop comrade Slug of Atmosphere identified as alopecia. The concept fit: more than on any other WHY? release, Yoni was uncovering his anger, anxiety, and ambition—celebrating his ugly by wearing his lowest of lows like badges of honor, devising characters to exorcise his inner demons, and arriving at begrudging self-affirmation. There's a line on "Brook & Waxing," reprised on "By Torpedo or Crohn's," that's become the loudest shout-along moment at WHY? concerts and the most likely quote to find tattooed in the crowd: "While I'm alive I'll feel alive / And what's next I guess I'll know when I've gotten there." Therein lies Alopecia's genius: we'll never get "there," not in 10 years past or 10 years more, but the beauty is in pushing on.
*really, there are no fewer than six bathroom scenes on Alopecia; can you find them all?

----

RIYL: Tobacco, Boards of Canada, The Mountain Goats, the spoken word parts of songs

----
About Lala Lala: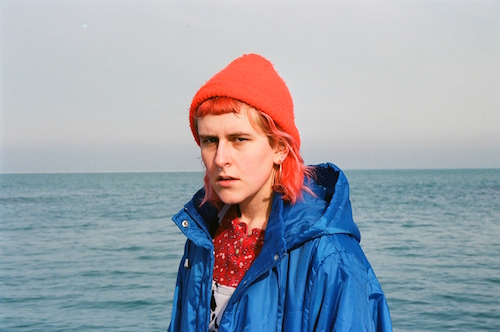 "The Lamb was written during a time of intense paranoia after a home invasion, deaths of loved ones and general violence around me and my friends," says Lillie West, the Chicago-based songwriter behind Lala Lala. "I began to frequently and vividly imagine the end of the world, eventually becoming too frightened to leave my house. This led me to spend a lot of time examining my relationships and the choices I'd made, often wondering if they were correct and/or kind."





West initially started Lala Lala as a way to communicate things that she felt she could never say out loud. But on The Lamb, her sophomore LP and debut for Hardly Art, she has found strength in vulnerability. Through bracing hooks and sharp lyrics, the 24-year-old songwriter and guitarist 

illustrates

 a nuanced look on her own adulthood—her fraught insecurity, struggles with addiction, and the loss of several people close to her.





Originally from London, West moved with her family to Los Angeles, where she spent her teenage years, and later to Chicago, where she enrolled at the School of the Art Institute of Chicago. Inspired by those cities' DIY music communities, she started Lala Lala as an outlet where she could process her new experiences, which often involved toxic relationships and partying around the city with beloved friends. The turbulence in West's life throughout that period resulted in an abrasive but tender debut album, Sleepyhead (self-released, 2016). West decided to quit drinking, and she began booking her own DIY tours across the country. Sobriety provided her with a newfound sense of self and clarity, and she began writing the songs for The Lamb while also starting the process of re-learning how to live her life.





Across the album's 12 tracks, West carefully examines the skeletons in her closet for the first time, hoping to capture honest snapshots of her past selves. Many of the songs show West asking herself agonizing questions about her life with a clever and hopeful curiosity. On the album's first single and opening track, "Destroyer," she reflects on feeling self-destructive and the delayed realization something in the past has irrevocably hurt you. In "Water Over Sex," West laments her old precarious 

lifestyle,

 while trying to readjust to her newfound sobriety, and "Copycat" confronts her feelings of alienation and boredom. "Some of this album is about being frustrated that everything is always repeating itself and being bored with your own feelings," she explains. "'Copycat' in particular is about how everyone talks exactly the same on the Internet and how it sometimes feels futile to try and be yourself."





The catalyst for the starkly titled "When You Die" came when West's friend Jilian Medford of IAN SWEET texted about the band getting into a car accident. In the song, she grapples with her lack of control over certain things and the inevitable regrets that come with it. Though that experience served as the song's initial inspiration, "When You Die" also reflects on a string of three months in 2017 when West experienced several close deaths. The spare and stunning album highlight "Dove" further explores this tragic string of events; West explains, "It is very plainly about the death of someone I loved a lot and the guilt I had, and still have, 

afterwards

."





After testing a handful of the new songs while on the road, The Lamb's final form came together while recording at Rose Raft Studio in rural Illinois. Performed by West with Emily Kempf on bass/backup vocals and Ben Leach on drums, the musical arrangements of the album—blending 

post punk

 with dream pop influences that incorporate vibrant synths, a drum machine, and even saxophone—find a balance between light and dark, reinforcing these dynamic and intimate songs that will surely resonate.