3S Artspace Presents:
Secret Santa, A Holiday Spectacular
Produced by RGC Theatre + Dive In Productions
Friday, December 15
Doors: 6:30 / Event: 7:30
Ages 18+ / Seated
$25 Cabaret Seating / $20 General Admission Seating
The Holidays are hard. Make sure the eggnog is harder!
Celebrate the holiday season with RGC Theatre and Dive In Productions as they move their yearly holiday gathering from their living room onto the 3S Artspace stage.

Ro Gavin (RGC Theatre) and Marina Altschiller-Gannon (Dive In Productions) host an evening of musical performances that include your favorite holiday hits and more!

Acting as Secret Santas of song, the RGC Theatre and Dive In cast will anonymously gift one another a song— it could be a Billboard Hot 100, a musical theatre number, or maybe a little "Run, Run Rudolph"—to perform live on stage in this festive event that's part game show, part holiday party, and part heartwarming variety show. Expect to hear timeless classics such as "You're a Mean One, Mr. Grinch," "Santa Baby," "I Did a Little Cocaine Tonight," and "I Swear to God Melvin, Don't Open Your Gifts Until Christmas [Or I'll Cancel the G*dd*mn Holiday]!"

Performance may feature strong language, adult themes, sexual situations, inappropriate humor, and holiday inspired mental breakdowns.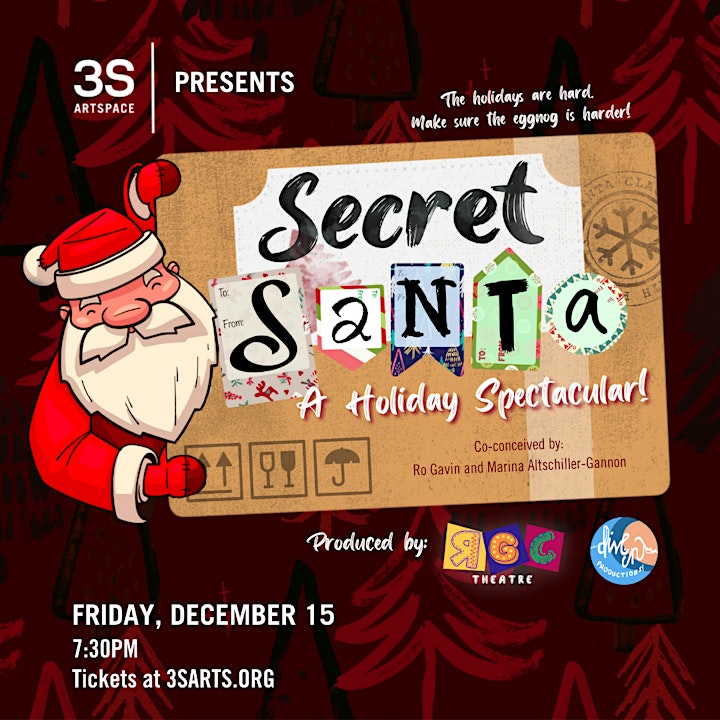 REAL AND LEGITIMATE PRAISE FOR SECRET SANTA, A HOLIDAY SPECTACULAR:

"Best Christmas story ever written, and that's saying something!" -Charles Dickens [1812-1870]

"Illegal, immoral, unlawful!" -Bergermeister Meisterberger

"I hereby declare Ro and Marina the ultimate Christmas performers!" -Mariah Carey

"This show deserves several awards AND to be thoroughly investigated by the FBI" -Former President Barack Obama

"GRAAAAAAWWGHHHHH!!!!!!!" -Abominable Snowman

"GRAAAAAAWWGHHHHH!!!!!!!" -Ro before their morning coffee
About RGC Theatre:

After 12 years on stage and behind the scenes for a variety of New England theatre companies, Founder and Executive Director Ro Gavin took their experience and created Ro Gavin Collaborative Theatre as a new outlet for arts in New Hampshire with focus on presenting unconstrained and inclusive theatre. RGC Theatre offers a unique experience for theatre artists by providing an auspicious environment for artists to create with ingenuity. RGC Theatre was officially established in 2021 with the support of Nicole Jones and Andrew Pinard.
TikTok: @rgctheatre
About Dive In Productions:

Dive In Productions is an education-based theatre company that focuses on giving everyone, no matter their level of experience, a chance to learn and grow in the theatre community. The company encourages people to "Dive In" and take a chance at something new.
Artist Inquiries + Proposals
Become a Member
Stay connected to 3S year-round.