All Performances
3S Artspace and Fire on the Mountain Present: The Blizzard of Aahhh's



3S Artspace and Fire on the Mountain Present: 
The Blizzard of Aahhh's
Friday, December 7th
Doors 6:30 / Movie 7:30
All ages / Seated
$10 Members and kids 12 and under / $15 General Admission


Blizzard of Aahhh's. Yes, it's grammatically incorrect. Greg Stump did that on purpose. He wanted the Aahhh's to be possessive. Nice try right?

Blizzard of Aahhh's was the fifth film in as many years from then 27 year-old ski film maker, Greg Stump. He and cinematic partner Bruce Benedict filmed in the winter of 1987-88. Greg produced and edited the film at Maine Video Systems in Portland, Maine. The film was released October 6,1988 at The Portland Performing Arts Center, Portland, Maine.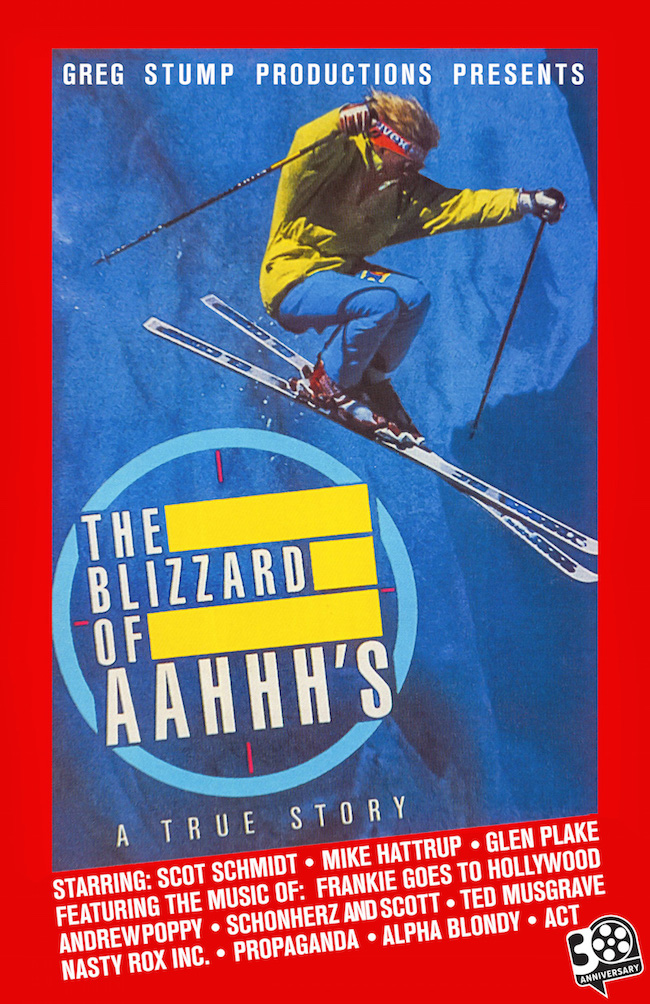 Greg Stump was a competitive freestyle skier from 1969-1980. By age 18 he had over 100 finishes in the top three and in 1978 he won the U.S. Junior National Championship at Copper Mountain, Colorado and in 1979 he won the first ever F.I.S. sanctioned international freestyle event, the North American Freestyle Championships in Ottawa, Canada.

Although Stump had made five ski films by 1988, the previous films were considered immature and goofy and relied heavily on mogul and freestyle skiing. Blizzard of Aahhh's by contrast attacked from the opening bell championing the relatively unknown sport of "extreme" skiing from Telluride, Colorado, Squaw Valley, California and big mountain alpinist mecca, Chamonix, France. The films' (then ferocious) skiing and attitude attracted the big mountain and racer skiers into Greg's core audience in record numbers.

Blizzard of Aahhh's starred three main skiers.  Scot Schmidt who had appeared extensively in Warren Miller films beginning with Ski Time in 1983. (Ironically, Ski Time was Greg Stump's skiing debut for a Warren Miller film as well. Greg had starred in Dick Barrymore's film Vagabond Skiers in 1979.)   Glen Plake, had skied in one previous Greg Stump film, Maltese Flamingo in 1986. He severely broke his femur getting swept through an avalanching "Punch Bowl" chute in Kirkwood, California at the end of 1986 and missed the 1986-87 Greg Stump film, The Good, The Rad and the Gnarly. Mike Hattrup had been a Stump star since Stump's second film in 1985, Time Waits for Snowman. Mike was a very powerful technical skier and freestyle mogul jumper.

All three were, and still are, incredibly gifted skiers.

Most North American audience members had never see extreme skiing or the massive mountains in Chamonix and were shocked by the "extreme" nature of the film. Many ski industry executives complained to Stump that he had gone too far and that there was no next step. They were wrong on both fronts. Ski films would, and continue to push the limits of what is possible. Today skiers are doing the most terrifying feats. Extreme became a household word and would be adapted by many advertisers and became the "go to"  marketing word. A funny example was Taco Bell promoting an Extreme Combo.

The film was an instant hit. Not with just Stump's core audience but the whole world of racer/mountaineer skiers that had avoided Stump's earlier works.  Another aspect to the films' success was the sudden availability of VHS machines in every home. For the first time the old Warren Miller business model of only touring as the way to promote a ski film had a big chink in its armor. Home video sales. Stump sold over $100,000 in VHS tapes out of his garage in Maine in 1988 from Blizzard of Aahhh's sales.

To this day, since Blizzard of Aahhh's neither Schmidt nor Plake have held real jobs. They both have parlayed their fame into becoming paid ski ambassadors for various companies. Before Blizzard of Aahhh's neither could make a living as a pro "ski movie" skier. Mike Hattrup was immediately hired by K2 sports after Blizzard of Aahhh's and had a 20 year career there.

Extreme skiing had made it big. The Blizzard of Aahhh's had made it into ski history.

Most publications that rank ski movies over the years consistently rate Blizzard of Aahhh's as number one.  The film has impacted thousands of skiers to leave their existing lives to pursue their dreams of ski life in the mountains.  The 30th anniversary edit will feature special new sequences and remastered sound and color. Still, the 16mm film and the archaic Chyron graphics are an antique novelty in today's digital world. To this day, Stump cringes at the narration and writing.