All Performances
Asian Ink Painting with Nishiki Sugawara-Beda (REGISTRATION FULL)
Registration is now open!

Asian Ink Painting w/ Artist Nishiki Sugawara-Beda
Saturday, April 15
10am -12pm
Location: Gallery at 3S
Suitable for ages 16+
$35 Admission fee + $20 Supplies fee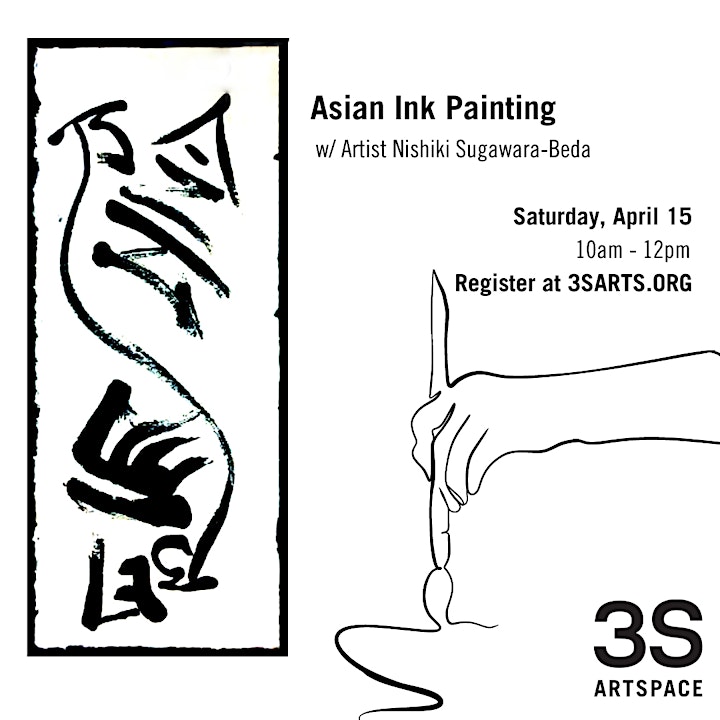 Participants are invited to join artist Nishiki Sugawara-Beda for a studio workshop exploring the aspects of Asian ink painting. The workshop starts with a lecture on the formation of Chinese character and the foundation of brush strokes in calligraphy, then moving into some hands-on activities. Next, participants will engage in Japanese calligraphy with a few letters, covering the basic brush strokes, then flowing into each particpant's personal creative project. Activities involve exploring materials, refinement of technical skills, and personal innovation.
About artist Nishiki Sugawara-Beda:

Nishiki Sugawara-Beda is a Japanese-American visual artist based in painting and installation. She draws upon her Japanese heritage to explore themes related to culture, language, and spirituality rooted in Zen Buddhism. Connecting across space and time, she experiments in ancient Japanese materials and techniques including Sumi ink, Kakejiku landscapes, and rice paper, to merge them with abstract and expressive forms familiar to the modern Western aesthetic.
Sugawara-Beda exhibits her work in solo and group exhibitions and offers lectures nationally and internationally to promote cultural diversity and exchange. Exhibition venues include the Spartanburg Art Museum (SC), Morris Graves Museum of Art (CA), Dennos Museum (MI), Amos Eno Gallery (NY), and Cris Worley Fine Arts (TX). Publications include New American Paintings, AEQAI, Athenaeum Review, London Post, Art Spiel, and WhiteHot. Awards including a Seed Grant, Diversity Fellowship, International Enhancement Grant, Idaho Arts Fellowship, Sam Taylor Fellowship, Tusen Takk Foundation residency, and Dallas Museum of Art Otis and Velma Davis Dozier Travel Fund have supported her artistic research.
In addition to national conferences, including the College Art Association, Sugawara-Beda also gives keynote speeches and workshops to cultural organizations including Pilipino American Unity for Progress, Inc., OCA-Asian Pacific American Advocates, and Business Council for the Arts, Dallas.
See You There, a full-color art book surveying her work from 2012 to 2020, was published by Execute Magazine in 2021.
----
Grant support provided by Japan Foundation, New York.

----
Click here to learn about our Health & Safety policies and measures.
Masks are strongly encouraged but not required during your visit to 3S Artspace.
By purchasing a ticket and/or visiting 3S, you are agreeing to follow 3S Artspace's health & safety requirements as they are on the date of your visit (not at the time of purchase). There may be exceptions or changes to our requirements for upcoming events, based on factors such as artist requirements and public health mandates.
Attendee Promise & Health Acknowledgement
All attendees agree to follow 3S Artspace policies and posted instructions during their visit. All attendees should evaluate their risk in determining whether to visit 3S. By entering the building, attendees voluntarily assume all risks related to exposure to COVID-19 and confirm they will adhere to both local and CDC quarantine requirements.
COVID-19 Warning
There is risk of exposure to COVID-19 in public spaces and there is no guarantee those attending an event will not be exposed to COVID-19.