All Performances
Couch to Mic - Adult Comedy Performance Training (REGISTRATION FULL)
Registration is now open!

Couch to Mic Adult Comedy Performance Training (all levels)
Instructed by Stephanie Lazenby
Class dates: Mondays / April 24, May 1, 8, and 15
Class duration: 6 - 8pm
Tuition Fee: $200
Ages 18+
Performance: Monday, May 22 at 7pm
All classes and the performance are held at 3S Artspace
Couch to Mic is a performance-based comedy workshop experience. Participants will spend four weeks writing and rehearsing their own original 5-ish minutes of comedy material.
Stephanie Lazenby will coach and guide the group in a supportive and fun environment. Each person will discover their own, unique comedy voice.
All of this leads to week five - which is a live performance in front of an audience at 3S Artspace. Stephanie will host the night for all to have a great time!
Couch to Mic is an empowering experience. Participants take moments from their life and transform these stories into a live comedy experience.
Get off the couch and take your ideas from the page to the comedy stage!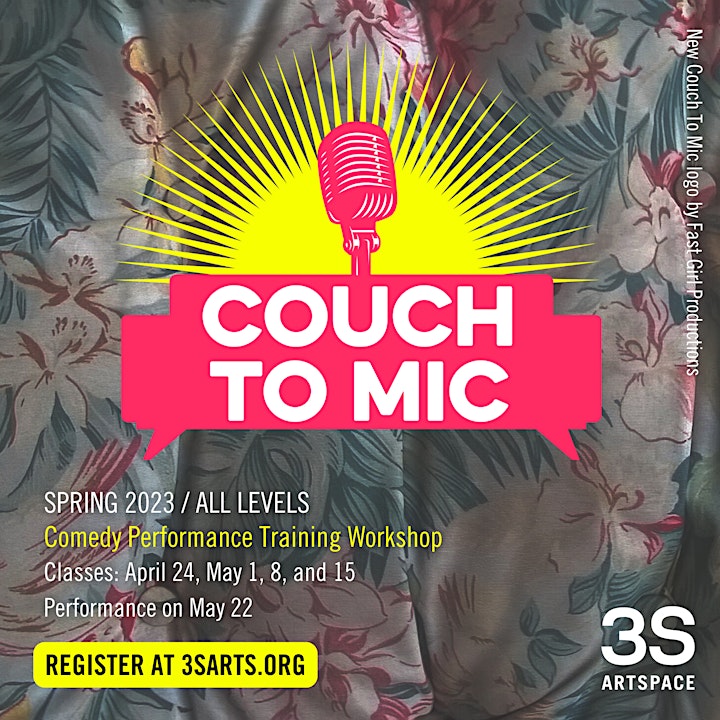 Please note:
- Workshop is four weeks - each workshop session is two hours.
- All workshop participants are required to perform at the live show on week five.
- At each workshop session, participants will share their progress with the class.
- All levels: This workshop series of Couch to Mic is open to those who are new to the Couch to Mic, as well as return participants! Due to the high demand for this workshop, if you are a proud Couch to Mic alum, please wait two sessions before registering for another session. We want to share the love AND have you back!
- Couch to Mic is a workshop where everyone supports each other to create an unforgettable night of entertainment.
----
About instructor Stephanie Lazenby:
Stephanie S. Lazenby is a writer, performer and educator. She brings over twenty five years of experience to all of her creative endeavors. She is a juried Artist in Residence through the New Hampshire State Council of the Arts. In addition to hosting Couch to Mic, most recently, Stephanie premiered her solo original stage show Where Do I Begin? At New Hampshire Theatre Project.
----
Health & Safety:
Masks are strongly encouraged but not required during your visit to 3S Artspace.
By purchasing a ticket and/or visiting 3S, you are agreeing to follow 3S Artspace's health & safety requirements as they are on the date of your visit (not at the time of purchase). There may be exceptions or changes to our requirements for upcoming events, based on factors such as artist requirements and public health mandates.
Attendee Promise & Health Acknowledgement
All attendees agree to follow 3S Artspace policies and posted instructions during their visit. All attendees should evaluate their risk in determining whether to visit 3S. By entering the building, attendees voluntarily assume all risks related to exposure to COVID-19 and confirm they will adhere to both local and CDC quarantine requirements.
COVID-19 Warning
There is risk of exposure to COVID-19 in public spaces and there is no guarantee those attending an event will not be exposed to COVID-19.
Click here to learn more about our Health & Safety policies and measures.