Now on sale!

Dorks in Dungeons
Season 10, Episode 1
Thursday, June 30
Doors 7:30pm / Show 8pm
$12 General Admission*
Seated
Dorks in Dungeons improv returns to 3S at long last!
Join us for an epic season of good versus evil! Of comedy and madness! Of fantasy and adventure...in the lands of Continentia!
About Dorks in Dungeons
Dorks in Dungeons is an internationally renowned fantasy improv troupe, celebrating their 10th year of performance and their 5th season with 3S Artspace! Performances take place on the last Thursday of each month.
Following the traditions of tabletop Role-Playing Games (RPG's), Dorks in Dungeons uses comedic long-form improvisation to create memorably hilarious characters who face challenges brought to them by a pit of improv actors. Audience members have the power to change the course of the show with their suggestions and the coveted Reroll Token.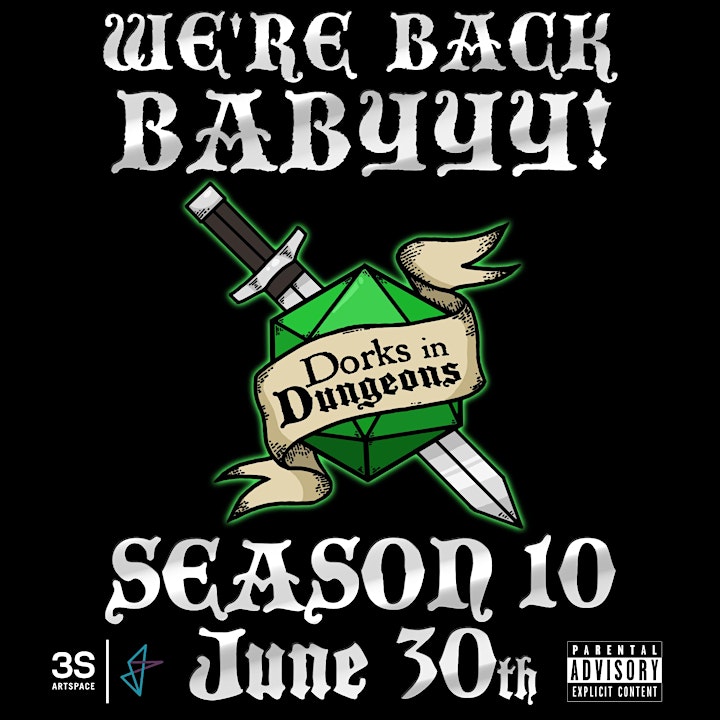 About Season 10
The town of Harken is in ruin, ransacked by the fearsome Death Masters Brigade, a cutthroat Continentian cabal who wield a powerful Dark Star Fragment. Their scheme? To search the land and reunite all the fragments of the Dark Star, so at long last they can summon the ApocEclipse, a cataclysm of cosmic, world-ending calamity!
Enter the Lumineers, a group of Continentian do-gooders who stand boldly as a beacon of brightness against the forces of darkness. Fueled by the powers of Solaria, the Lumineers race to find the Fragments first.
Will the Lumineer's flame burn bright enough, or will the Death Masters snuff it out? The soul of Continentia hangs in the balance, and you the audience is empowered to place your finger on the scales of Fate! The ApocEclipse is nigh!
----
Season 10 is made possible through the support of 3S Artspace.
*Ordering tickets in advance of the show date will earn you a Level Up Ticket which includes bonus stuff from the Merch Table, like the coveted Reroll Token!
----
Click here to learn about our Health & Safety policies and measures.
Masks are strongly encouraged but not required during your visit to 3S Artspace.
By purchasing a ticket and/or visiting 3S, you are agreeing to follow 3S Artspace's health & safety requirements as they are on the date of your visit (not at the time of purchase). There may be exceptions or changes to our requirements for upcoming events, based on factors such as artist requirements and public health mandates.
Attendee Promise & Health Acknowledgement
All attendees agree to follow 3S Artspace policies and posted instructions during their visit. All attendees should evaluate their risk in determining whether to visit 3S. By entering the building, attendees voluntarily assume all risks related to exposure to COVID-19 and confirm they will adhere to both local and CDC quarantine requirements.
COVID-19 Warning
There is risk of exposure to COVID-19 in public spaces and there is no guarantee those attending an event will not be exposed to COVID-19.
----
Thank to our year-round Lead Sponsors: Raka and PixelMedia.