All Performances
Flip The Switch: Fundraiser to light up the future Portsmouth Skatepark
Now on sale!

Flip The Switch:
A fundraiser to light up the future Portsmouth Skatepark
Thursday, June 9
6-10pm
Pay-what-you-choose (starting at $10) / Free for ages 17 and under!
The Blue Ribbon Skatepark Committee needs your help raising money for lighting the future Skatepark of Portsmouth:
Join the BRSC at Flip The Switch , an event celebrating skateboarding and raising funds for the skatepark. Come see what your local skateboarding community is all about! View art, bid big, have a drink, meet up with friends, and make new ones.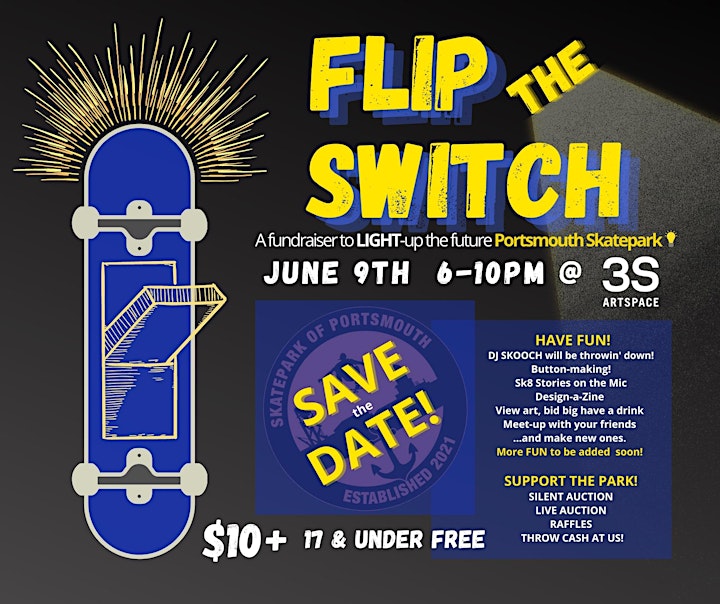 This event is family friendly! We'll have fun activities for the youngsters, like button and zine making, and a fingerboard skatepark table. Raffle items for kids will be drawn at a reasonable hour.
There will be a short lineup of speakers, including an update from the City about the skatepark, as well as some footage of some of our locals shredding around the seacoast area.
Oh and did we mention that Vida Cantina is sponsoring DJ Skooch to be our official DJ for the evening?!
Capacity is limited, and a ticket is required to attend (even if you are going for free as a 17 and under human), so make sure to get your ticket in advance. Choose the ticket option that makes sense for you: Free (ages 17 & under), $10, $20, or $50. Yes, big spenders, we want you to give a little extra for a ticket so we can watch the red temperature marker rise to at least $10,000!
At the event, you'll have plenty of chances to help raise that marker with t-shirts and/or posters screen printed on site, yummy cupcakes for dessert (so eat dinner before you come), raffle items for kids and adults, a silent auction* featuring hand painted skateboard decks with many of the artists in attendance, and a live auction featuring a few choice items. There will also be a 50/50 raffle, so bring cash!
*Please note: the best way to pay for silent auction items will be via the City of Portsmouth website. There is a small fee associated with this site if you use a credit card, so if you hate fees bring your bank account information, or a check made payable to the City of Portsmouth. Cash or check is best for raffle tickets, and cash or Venmo will be accepted for t-shirts and cupcakes. Thank you!
----
Click here to learn about our Health & Safety policies and measures.
Masks are strongly encouraged but not required during your visit to 3S Artspace.
By purchasing a ticket and/or visiting 3S, you are agreeing to follow 3S Artspace's health & safety requirements as they are on the date of your visit (not at the time of purchase). There may be exceptions or changes to our requirements for upcoming events, based on factors such as artist requirements and public health mandates.
Attendee Promise & Health Acknowledgement
All attendees agree to follow 3S Artspace policies and posted instructions during their visit. All attendees should evaluate their risk in determining whether to visit 3S. By entering the building, attendees voluntarily assume all risks related to exposure to COVID-19 and confirm they will adhere to both local and CDC quarantine requirements.
COVID-19 Warning
There is risk of exposure to COVID-19 in public spaces and there is no guarantee those attending an event will not be exposed to COVID-19.