Now on sale!

3S Artspace presents:
Loading Dock Concert Series - Copilot
Friday, July 22
Show time: 6pm - 7:15 EARLY SHOW
All ages / Seated
Pay-what-you-choose table reservation (starting at $50 for up to 4 people)
***New: Single tickets now available for Community Table seating!***
About Copilot:
Copilot is a rock-pop band from Boston, MA that was formed in 2018. Maggie (vocals), Ry (guitar, vocals), Jake (vocals), Dylan (drums), Bev (bass), & Jack (lead guitar) were all brought together by one thing. At one point, they were all each other's biggest fans.
Coming together from their own respective musical projects, the powerful triad of singers shape the band's sound. Their blend of harmonies and the unique character of each vocalist allows Copilot to explore a whole spectrum of emotion with their songwriting and create electric live performances. The thick yet smooth sound of the rhythm+lead (Bev, Dylan, Jack) section ties the group's dynamic sound together.
----
Info about attending a Loading Dock Concert:
- Online reservations. We strongly encourage you to purchase your full table reservation or single ticket in advance of the show date. We have several pricing tiers for you to choose from for table reservations starting at $50— please know that the more you pay, the more funds are received by the artists— not just 3S. Thank you for supporting 3S and the artists.
- ***Single tickets may be purchased now as well for $15 per ticket! We have two Community Tables. Please note: if you purchase single tickets, you may be seated with other single ticket buyers at your table.***
- Full table reservations. Your table reservation seats up to 4 guests in your party. You will be able to pick your table once you arrive at 3S the day of the show on a first-come, first-served basis.
- Table service provided by Barrio. Order drinks and food from Barrio's full menu while you enjoy the show!
- Check-in. Check-in for the 6pm shows begins at 5:30pm. Check-in for the 8pm shows begins at 7:30pm. Barrio table service is available beginning at those check-in times.
- Two shows per night: one at 6pm and one at 8pm. After the 6pm show, we ask that visitors exit so we can clean the tables and prepare for the 8pm show. Thank you for understanding!
----
Click here to learn about our Health & Safety policies and measures.
Masks are not required during your visit to 3S Artspace, but you are always welcome to wear one!
By purchasing a ticket and/or visiting 3S, you are agreeing to follow 3S Artspace's health & safety requirements as they are on the date of your visit (not at the time of purchase). There may be exceptions or changes to our requirements for upcoming events, based on factors such as artist requirements and public health mandates.
Attendee Promise & Health Acknowledgement
All attendees agree to follow 3S Artspace policies and posted instructions during their visit. All attendees should evaluate their risk in determining whether to visit 3S. By entering the building, attendees voluntarily assume all risks related to exposure to COVID-19 and confirm they will adhere to both local and CDC quarantine requirements.
COVID-19 Warning
There is risk of exposure to COVID-19 in public spaces and there is no guarantee those attending an event will not be exposed to COVID-19.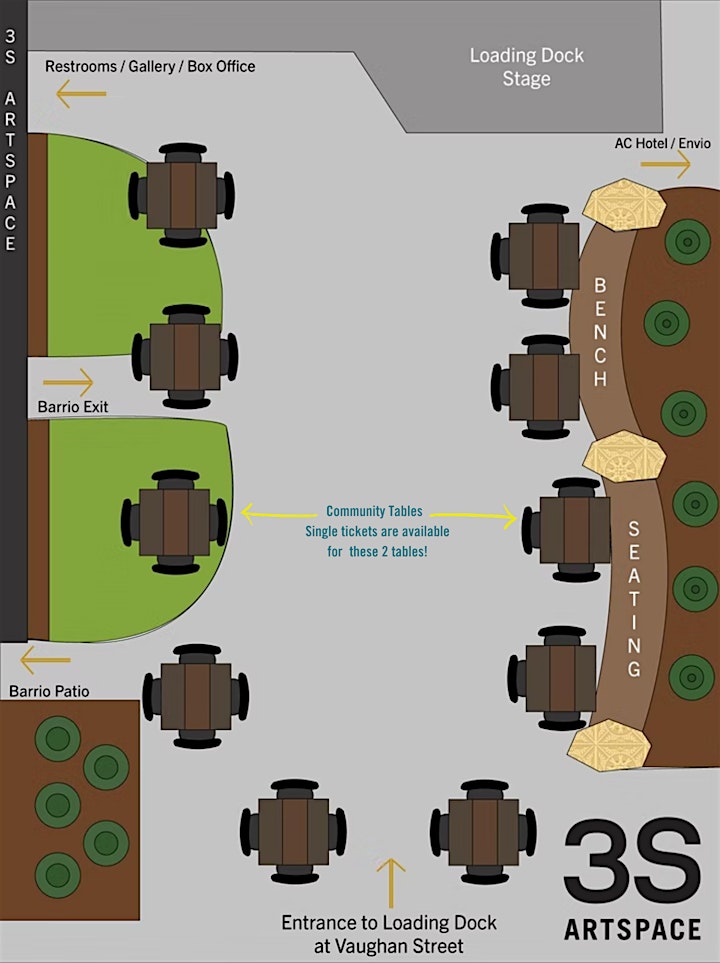 ----
Ticket purchases are non-refundable. In the event of a rain cancelation, ticket holders will be contacted with the option to carry over their purchase to another 3S event or to donate their purchase to 3S (we are a 501(c)(3) nonprofit, so thanks for the support!).
----
The Loading Dock Concert Series is generously supported by: Katzman Contemporary Projects, Kennebunk Savings, Sheraton Portsmouth Harborside Hotel.