Long Story Short: Breaking All The Rules
Wednesday, September 18*
Doors at 6pm / Event at 7pm
Ticket: $5
This is a seated event.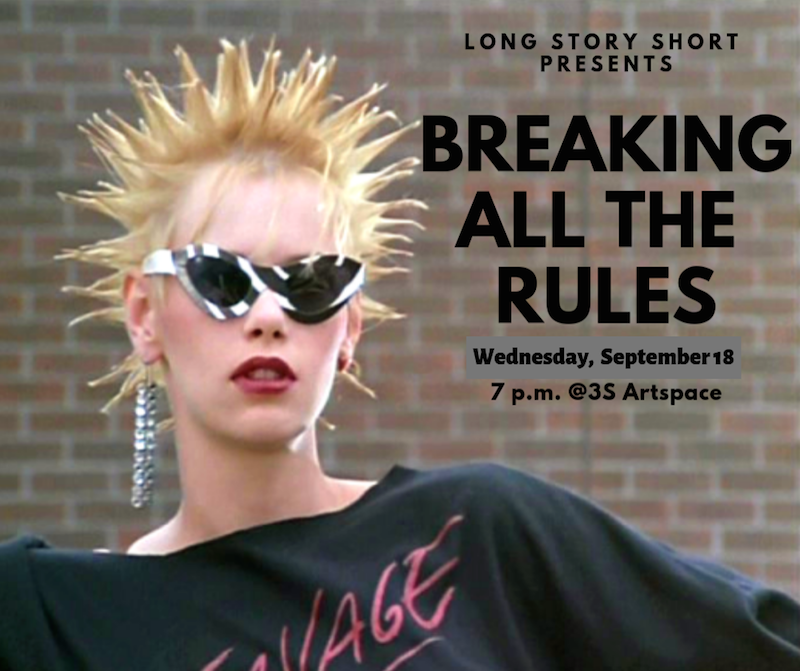 Featured storytellers:
Dylan Haigh
Dylan Haigh was born and raised in coastal New Hampshire before escaping at 17 to Boston, New York, and finally, North Carolina. He returned home in 2010 to found HAM, a design and branding studio in Portsmouth, NH. 

He is a designer, an artist, a crusty old motorcycle-enthusiast, and firm believer that any body of water, no matter how big or small, pristine or  murky, is a swimming hole.
Brian Kaye
Brian Kaye's day job is in technology sales, where multiple times each week he has to give complex corporate and technical presentations. 

When Brian was coaching youth sports teams, he constantly asked his kids to challenge themselves, to work at something they weren't good at or hadn't tried before, and get out of their comfort zones in order to get better. 

Brian's been a longtime fan of storytelling programs like Long Story Short and The Moth, so tonight he's following his own advice to his players by coming up here and, for the first time, sharing a story with an audience who wants to be there as opposed to has to be there.

Brian's story takes a detour from the scripted milestones of life it seems everyone expects him to hit.

Kit Lyman
Kit Lyman, a frequent Moth Story Slammer from Boston, moved up to the Portsmouth area last summer. She lives in Dover, NH, with her wife and works locally as a tech consultant. She is a lover of storytelling, any form of a potato, and good questions that help reveal who you truly are. In 2014, she released her debut novel, Satan's Garden, a dynamic psychological thriller that received the Gold Medal for Thriller fiction in Readers' Favorite 2014 International Book Award Competition and is top rated for kidnapping thrillers on Amazon. She is working on her second book, which she plans to release in 2020. 

Kit Lyman talks about acknowledging who she is to the world and the wonderful things that happened when she did.

Justin Kelcourse
Currently on his resume, real estate mogul is in the forefront. What you don't see on his resume is his colorful past of street vending, dirty hippie gypsy travel, and manager of the infamous local porn shop the Fifth Wheel. At least one of these things comes with some regret and maybe you will hear about it tonight.  

Justin tells of a Sunday brunch turned full blown underground breakfast joint turned speak easy. Illegal businesses and black market money are good for the pocket, but useless for the resume.

Brooke Williams
Brooke Williams is a writer from Kittery, Maine. Her humorous essays about identity, marriage and motherhood have been published in The New York Times, The Washington Post and The Camden Herald. You can read more of her stories at brookenwilliams.com

Brooke will tell a story about breaking all the rules at a place known for not having any rules.


Ryan VanDalinda
Ryan VanDalinda recently moved back to New Hampshire from Los Angeles. In the past, he's been a speaker at the NH Film Festival's young film makers program, and has been a featured storyteller at the 'A Winter's Tale,' spoken word series at The Red Door. He's currently taking 'Stranger Than Fiction's,' improv workshop, in Kittery and looking for a new job. 

Ryan will be telling the story about his trip the Grand Canyon that turned into a nightmare.

Heather Armitage
Heather Armitage works at the Portsmouth Public Library and lives in Kennebunk, Maine with her husband, Michael, and their rescue dog, Archie. Heather's humorous essays have appeared on NHPR, and in The New Hampshire Magazine and Bark Magazine, before she turned her attention to writing a series of unpublished novels. 

Heather will be telling the story about a double date in a hearse that surprisingly goes very wrong.

About Long Story Short:
Long Story Short is not just a storytelling event. It's an opportunity to share the funniest moments life brings us, the deepest human emotions, and the strangest day of your life with complete strangers. This bare-bones storytelling series, hosted by Beth LaMontagne Hall, is free of pretense and over-rehearsed monologues. The show throws a mix of professional writers, performers, and average folks who have no public speaking experience whatsoever on stage with just a mic and a spotlight to tell a personal story based on that show's theme. What makes Long Story Short unique is the off-the-cuff feel many of the stories have, including each show's one open mic slot. A brave volunteer from the audience is selected at random and must take the stage in a moment's notice to open the second half, — not even the host knows what's going to happen.
Long Story Short is held quarterly at 3S Artspace.
You can find more about Long Story Short on its Facebook page, facebook.com/LSSat3S/.


---
*moved to 9/18 from 9/11.