All Performances
Lore of the Jack-O'-Lantern Live Reading + Audiobook Release Party
Now on sale!

Lore of the Jack-O'-Lantern
Written by Brian Serven / Illustrated by Dan Blakeslee
Live Reading + Audiobook Release Party
Sunday, October 22
Doors 6pm / Event 7pm
$15 Members / $20 General Admission
All ages / Seated
Join us for a theatrical book reading and music performance to celebrate the audiobook release of Lore of the Jack-O'-Lantern!
Inspired by the spirit of Halloween and inherent nature of humans to share scary stories, the night opens with a reading of flash fiction from the spooky collection - Nocturnum Malorum ("Night Troubles"), by Brian Serven. Illustrations of the stories' characters, by Mark Blanchard, will be projected during the readings.
Then, when your chattering teeth quiet and you're ready for more frights, the evening will conclude with the live reading of Lore of the Jack-O'-Lantern, a novella written and narrated by Brian Serven, who will be joined on stage by character voice actors, Beth LaMontagne Hall, Timothy Fife, Andy Bryant, and Vanessa Van Besien. While the story is being read, each of the book's 14 full-page illustrations, by Dan Blakeslee (a.k.a. Doctor Gasp), will be projected onstage.
For those who attended the Book Release Party last year, we have a few extra treats this year: we'll be adding sound effects and live music! The audiobook features an original music score composed by Brian Serven, which will be performed live between chapters—just as it is in the audiobook.
The event is appropriate for all ages, although especially for children 8 years and older and nostalgic adults. If the stories were to receive a movie rating, it would be PG. For fans of Scary Stories to Tell in the Dark, Goosebumps, Grimm's Fairy Tales, and stories by Edward Gorey, and Lemony Snicket.
Novella synopsis:
Lore of the Jack O' Lantern , written by Brian Serven and illustrated by Dan Blakeslee, is a thriller/horror novella set on Halloween night in a small town in New Hampshire. As seething sweets seekers troll the streets, a local gang of outcasts known as the Ferals desperately search for their missing friend, Alfie. It seems Grandma Collins' old-country stories about Stingy Jack have come true and the carved pumpkins on porch steps aren't warding off evil...the Jack-O'-Lanterns seem to be inviting it.
The veil between the living and dead is thin and children's souls are irresistible. The Ferals must face the thing that lurks in the dark to rescue their friend...before it's too late.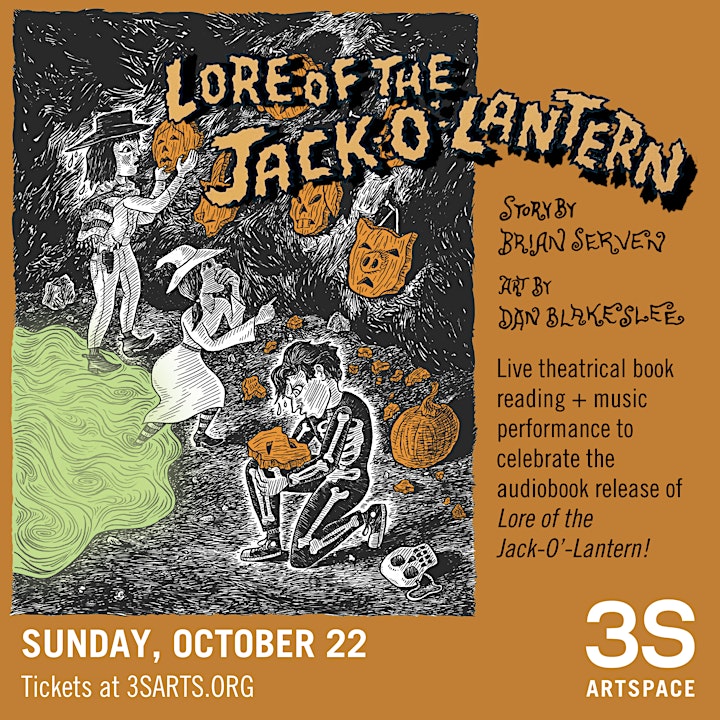 About the author Brian Serven:
Brian Serven has been fascinated with spooky stories, ancient myths, and eerie lore since he learned to read. Every printed word provided insight into the mystery of the unknown. Brian soon realized that the only thing more thrilling than reading these exciting stories was writing them. When not writing, Brian composes music, studies the art of the empty hand, explores small towns, and revels in the company of family.