Registration for this workshop is now open!

Make Zines & Play Surrealist Games
with artist Sue Johnson
Sunday, July 10
12-2pm
Location: Gallery at 3S
Workshop suitable for ages 12+
$20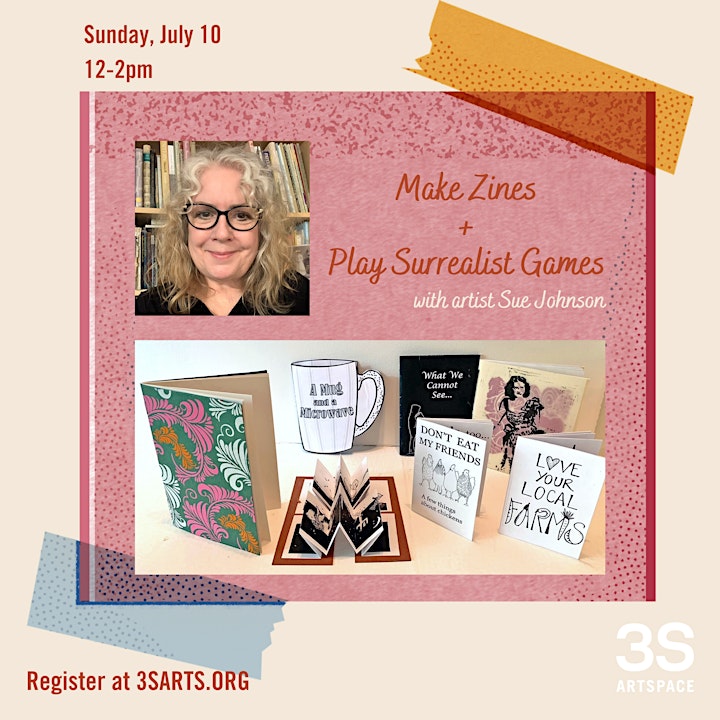 Get creative at 3S Artspace! Acclaimed artist Sue Johnson will lead participants in the creation of zine miniature books while playing the games that 20th century Surrealists invented to unlock the imagination.
A combination of words and images will be explored, plus the use of collage as a method to create unexpected new images and stories.
No previous art experience is needed.
Basic art supplies and collage materials are provided for all participants.
Participants are encouraged to bring their own favorite art supplies (such as markers, colored pencils, collage materials like paper scraps, postcards, and/or photographs – no wet paint).
About artist Sue Johnson:
Sue Johnson (American, born San Francisco, CA, 1957) is an internationally exhibited artist whose works combine installation, painting, drawing, printmaking, photography, found objects and artist books. She earned an MFA in Painting and Printmaking from Columbia University and a BFA in Painting from Syracuse University, with additional study in London and Florence with Syracuse University. Johnson's artworks and multiple media installations are revisionist in method creating plausible fictions that run both parallel and counter to canonical histories. Projects focus on topics that include the origins of museums, cabinets of curiosities and "lost" collections, the picturing of nature and women, the domestic universe and consumer culture – and collectively, defy easy categorization.
----
Click here to learn about our Health & Safety policies and measures.
Masks are strongly encouraged but not required during your visit to 3S Artspace.
By purchasing a ticket and/or visiting 3S, you are agreeing to follow 3S Artspace's health & safety requirements as they are on the date of your visit (not at the time of purchase). There may be exceptions or changes to our requirements for upcoming events, based on factors such as artist requirements and public health mandates.
Attendee Promise & Health Acknowledgement
All attendees agree to follow 3S Artspace policies and posted instructions during their visit. All attendees should evaluate their risk in determining whether to visit 3S. By entering the building, attendees voluntarily assume all risks related to exposure to COVID-19 and confirm they will adhere to both local and CDC quarantine requirements.
COVID-19 Warning
There is risk of exposure to COVID-19 in public spaces and there is no guarantee those attending an event will not be exposed to COVID-19.
Thank to our year-round Lead Sponsors: Raka and PixelMedia.