Now on sale!

Performing Modern Motherhood - Online and Off
w/ author Sara Petersen
Thursday, May 4
Doors 6:30pm / Event 7pm
Location: 3S Artspace
Seated
$10 General Admission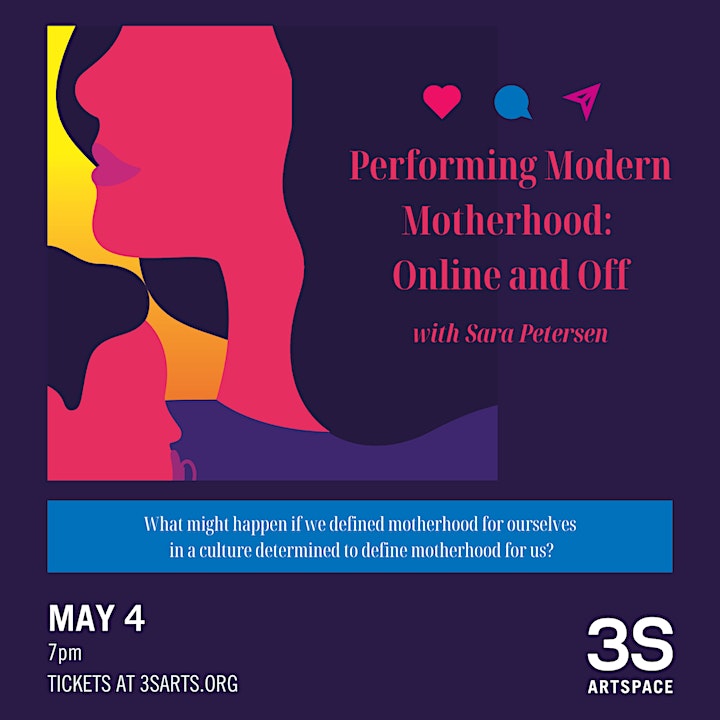 What might happen if we defined motherhood for ourselves in a culture determined to define motherhood for us?
Join Sara Petersen author of Momfluenced: Inside The Maddening, Picture-Perfect World of Mommy Influencer Culture (release date: 4/25/23) in conversation with award winning editor Conz Preti, and Lynn Steger Strong, author of Want and Flight in a conversation about how we perform motherhood (both online and off).
On Instagram, the private work of mothering is turned into a public performance, generating billions of dollars. The message is simple: we're all just a couple of clicks away from a better, more beautiful experience of motherhood. On social media, momfluencers, women who have capitalized on their identities as mothers to earn both financial and cultural capital, are paid and lauded not for their unpaid labor as caregivers, but for their ability to perform motherhood for an external audience. They perform ideal aesthetics, ideal parenting scripts, ideal beauty standards, ideal family-friendly meals. And really, mothers have been tasked with performing maternal ideals as long as those ideals (largely constructed by white men as a way to consolidate power) have existed.
What does it mean when mothers are paid for their ability to adhere to maternal ideals steeped in whiteness, capitalism, and the heteronormative nuclear family? Who gets to be a "good mom?" Who do maternal ideals marginalize, harm, and erase?
Following the discussion, the panel will be available for a question and answer period, and Sara will be available for a book signing at the end of the evening. Momfluenced will be available for purchase at the event.

About Sara Petersen:
Sara has written about motherhood and feminism for The New York Times, Harper's Bazaar, The Washington Post, and elsewhere. She also writes the newsletter, In Pursuit of Clean Countertops, where she explores the cult of ideal motherhood. She lives in New Hampshire.
Panelists:
Conz Preti
Conz is an award-winning editor, originally from Argentina and mom of three under 5. She's worked in online media for over 15 years, and her byline can be found on many of the popular websites millennials read regularly. She has a master's from Columbia Journalism in digital journalism. She's the author of "Too Pregnant To Move" and wrote a chapter for the parenting book "100 Diverse Voices on Parenthood." Currently she is the Senior Editor for freelancers at Insider, focusing on parenting, health, college life, and sex and relationships.
Lynn Steger Strong
Lynn is the author of the novels Hold Still, Want, and Flight. Her non-fiction and criticism has appeared in The New York Times, New York Magazine, Harper's Bazaar, The LA Times, The New Republic, and elsewhere. She teaches writing at Bates College and Columbia University.
----
"Momfluenced makes rich text of our often mindless scrolling, unpacking the ways performances of social media motherhood help and hinder parenting in its personal and political spheres. This book provides all the delicious pleasures of envy-snarking on the neutrals of your newsfeed, plus the necessary catharsis of your favorite group text, with the bonus of nutrient-rich research into how race, class, and politics influence our cultural conception of the ideal mother and why mindful consumption might be the first step to change. I'm so glad we have Sara Petersen's voice to unravel these complexities with humor and pathos."
--Julia Fine, author of The Upstairs House and Maddalena and the Dark
"Incisive, illuminating, and prescient, Momfluenced thoroughly excavates of one of the internet's most fascinating and insidious subcultures. If I could heart this book twice, I would."
--Amanda Montell, author of Cultish: The Language of Fanaticism