Now on sale!

RGC Theatre and 3S Artspace present
RIDE THE CYCLONE
Book, lyrics, and music by
Jacob Richmond and Brooke Maxwell

Sunday, April 16
Doors 1pm / Show 2pm
All ages / Seated
Pay-what-you-choose (starting at $25)
Livestream tickets are available HERE
"Ingeniously dark and funny." -Washington Post
"A wonderful, touching and memorable roller coaster ride of a theatrical experience, for teen and adult audiences alike. With the show's supernatural atmosphere... this is, quite simply, a beautiful 'Dream of Life' come true." -Chicago Theatre Review
"Both eerie and funny, as well as subversive, serious, touching, and great." -Vulture
----
Synopsis:
RGC Theatre's smash production, and the New England Premiere, of Ride the Cyclone makes a triumphant return!
On Monday, September 14th, at 6:17pm, children boarded the Cyclone roller coaster. At 6:19pm, the Cyclone's front axle broke, causing it to derail at the apex of the loop de loop, hurtling the children to their deaths.
Ride the Cyclone is a high octane, raucous comedy that presents the story of the St. Cassian Chamber Choir, who passed in this horrible accident. Emceed by The Amazing Karnak, a fortune telling machine designed to predict the exact time and place of someone's death, each child competes in a mysterious contest for the opportunity to come back to life.
Following tales of success, imagination, passion, rage, and forgotten souls, Ride the Cyclone is sure to warm your heart, chill you to the bone, and fill the room with laughter. This incredible and spooky musical will leave you hooked on Karnak's mysterious insight on mortality:
Your lucky number is seven. You will soar to great heights. Be sure to ride the cyclone.
It goes around and round and round again...
----
Cast (Click here for bios):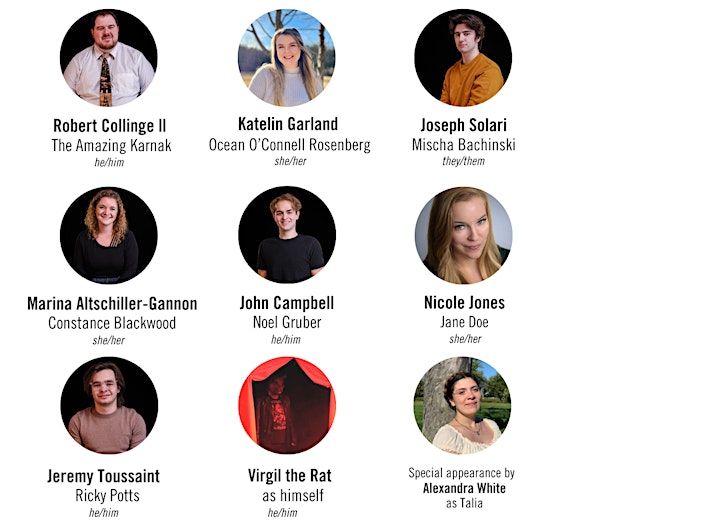 DIRECTION - Ro Gavin (They/Them)
CHOREOGRAPHY - Ro Gavin (They/Them)
STAGE MANAGEMENT - Sarah Collinge (She/Her)
ASSISTANT STAGE MANAGEMENT - Eric Roy (He/Him)
REVIVAL COORDINATOR - Nicole Jones (She/Her)
ORIGINAL MUSIC DIRECTION - Breanne Battey (She/They)
SUPPLEMENTAL MUSIC DIRECTION - Tim Goss (He/Him)
SCENIC DESIGN - Ro Gavin (They/Them)
TECHNICAL DIRECTION - Kat Mail (She/Her) and Jillian Gordon (She/Her)
LIGHTING DESIGN - Casey Dalke (He/Him)
PROJECTIONS OPERATOR - Sandra Avellani (She/Her)
COSTUME DESIGN - Marjorie Boyer (She/Her)
ASSISTANT COSTUME DESIGN - Heather Spellman (She/Her)
PROPERTIES - Katelin Garland (She/Her)
DANCE CAPTAIN - Nicole Jones (She/Her)
MUSIC CAPTAIN - Marina Altschiller-Gannon (She/Her)
Produced by special arrangement with Broadway Licensing. www.broadwaylicensing.com.
About RGC Theatre:
After 12 years on stage and behind the scenes for a variety of New England theatre companies, Founder and Executive Director Ro Gavin took their experience and created Ro Gavin Collaborative Theatre as a new outlet for arts in New Hampshire with focus on presenting unconstrained and inclusive theatre. RGC Theatre offers a unique experience for theatre artists by providing an auspicious environment for artists to create with ingenuity. RGC Theatre was officially established in 2021 with the support of Nicole Jones and Andrew Pinard.
TikTok: @rgctheatre
----
Click here to learn about our Health & Safety policies and measures.
Masks are strongly encouraged but not required during your visit to 3S Artspace.
By purchasing a ticket and/or visiting 3S, you are agreeing to follow 3S Artspace's health & safety requirements as they are on the date of your visit (not at the time of purchase). There may be exceptions or changes to our requirements for upcoming events, based on factors such as artist requirements and public health mandates.
Attendee Promise & Health Acknowledgement
All attendees agree to follow 3S Artspace policies and posted instructions during their visit. All attendees should evaluate their risk in determining whether to visit 3S. By entering the building, attendees voluntarily assume all risks related to exposure to COVID-19 and confirm they will adhere to both local and CDC quarantine requirements.
COVID-19 Warning
There is risk of exposure to COVID-19 in public spaces and there is no guarantee those attending an event will not be exposed to COVID-19.