Rollercoaster: A Family Friendly Dance Party
(and button making session!)
Saturday, March 9
2pm - 4pm
FREE for parents & tots under 2
$10 1st child / $5 each additional sibling
Rollercoaster returns in 2019! This is a dance party for parents and their kids featuring music you listened to before the Moana soundtrack invaded your stereo. Sounds good, right? Ahh, sweet relief. Know what sounds even better? We'll have a full bar, plus healthy snacks for the kiddies. 
Get ready for some Run DMC, Beastie Boys, Salt-n-Pepa, The Sugarhill Gang right alongside music the whole family can rock out to, including ABBA, Bowie, Flo Rida, Taylor Swift, The Ramones, New Order, Prince, Justin Timberlake, OK GO and more!  Music is one of our specialties here at 3S, so we'll do it up right!

PLUS: A hands-on button-making session with artist Sam Paolini and a Portsmouth Middle School zine showcase!*
Who: Parents and their kids (babies through 10 year olds).

What:  A dance party that's as fun for you as it is for the kiddos! Healthy snacks for all and a full bar for the adults. Dance floor, picnic area, activities, and irresistible music.

Where: 3S Artspace

When: 2pm – 4pm (post-nap, pre-dinner, and exactly the right time for an afternoon cocktail).

Why: It's winter. It's cold out. They're bouncing off the walls. Now you can bring 'em here and join them or kick back and watch them bop and boogie from afar.
A dedicated nursing area will also be available.
---
*About button-making and the Portsmouth Middle School zine showcase:
As part of our Clash! Loud and Clear event series, artist Sam Paolini be at Rollercoaster on 3/9 and invites everyone to make buttons/pins in the traditional punk rock style!

During the month of February, Sam is working with Portsmouth Middle School's visual arts students for a zine-making project. A "zine" (short for magazine or fanzine) is a small-circulation self-published work of original or appropriated texts and images, often reproduced via photocopier. Zines can have a wide variety of content, and are an important expressive outlet that give accessible voice to those with the passion to create and share. Zines created by PMS students will be available at Rollercoaster for all to enjoy!


About Sam Paolini:
Sam Paolini is a one-of-a-kind illustrator, muralist, zinester, teacher, upcycled clothing-maker at Sam Pao. Sam is also Founder and Director of nonprofit arts organization, Wrong Brain. 

---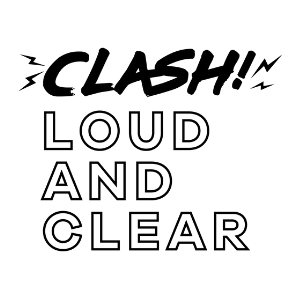 About Clash! Loud and Clear: In celebration of the 40th anniversary of the release of The Clash's iconic album, London Calling, 3S Artspace presents a series of events, exhibits, and activities related to music's ability to instigate, motivate, and encourage action. 

Co-creator of Clash! Loud and Clear and visual arts teacher at Portsmouth Middle School, Anna Nuttall is thrilled to share her love of punk and hardcore music, and its ethos with students through this project. "Our youth are watching the clashing of ideals, opinions and values play out on the world stage, in both productive and destructive ways and are wondering 'What role can we play? Do we have a choice? A voice?,'" she said. "Punk is art, writing, activism, and more. It's a scene, a movement, and at its core, is a force of fighting for the underserved and overlooked.  It raises awareness, promotes a cause, and most importantly, instigates real change for a better world. That's an empowering dialogue worth having with kids."