Now on sale!

The Yin & Yang of Gerry Lopez
Film screening
Presented by 3S Artspace
In partnership w/ Seacoast Paddleboard Club + Cinnamon Rainbows Surf Company
Friday, August 12
Doors 6:30pm / Screening 7pm (run time: 100 minutes)
$12 Member / $15 General AdmissionAll ages / Seated
The path to enlightenment begins at the world's deadliest wave.
Synopsis:
From award-winning documentary filmmaker Stacy Peralta comes Patagonia's The Yin & Yang of Gerry Lopez, a film that lifts the veil on one of surfing's most enigmatic heroes. While "Mr. Pipeline" is famously known for his calm demeanor in the tube, Gerry built his career with aggressive surfing that left behind a trail of blood and tears. Gerry is as radical as he is Zen; he transcends categorization. He's one of the most influential surfers and surfboard shapers of all time, an entrepreneur, a family man, a movie star and a lifelong yogi who brought surfing to new frontiers. His influence on modern surfing is immeasurable. For the first time, his story is being told in full.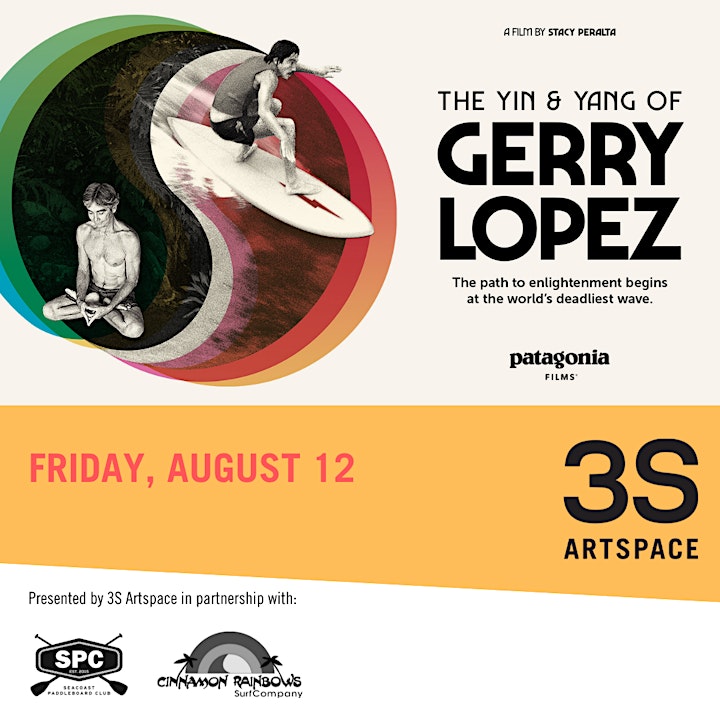 Patagonia Films
About the filmmaker, Stacy Peralta:
Stacy Peralta's an award-winning documentary filmmaker and one of the most influential skateboarders of all time. His documentary Dogtown and Z-Boys won him the Best Director Award at the Sundance Film Festival. Photo: Tim Davis
----
Click here to learn about our Health & Safety policies and measures.
Masks are strongly encouraged but not required during your visit to 3S Artspace.
By purchasing a ticket and/or visiting 3S, you are agreeing to follow 3S Artspace's health & safety requirements as they are on the date of your visit (not at the time of purchase). There may be exceptions or changes to our requirements for upcoming events, based on factors such as artist requirements and public health mandates.
Attendee Promise & Health Acknowledgement
All attendees agree to follow 3S Artspace policies and posted instructions during their visit. All attendees should evaluate their risk in determining whether to visit 3S. By entering the building, attendees voluntarily assume all risks related to exposure to COVID-19 and confirm they will adhere to both local and CDC quarantine requirements.
COVID-19 Warning
There is risk of exposure to COVID-19 in public spaces and there is no guarantee those attending an event will not be exposed to COVID-19.
Ticket purchases are non-refundable.
Thank you to our year-round Lead Sponsor: Raka.