Now on sale!

Boston Dance Theater:The Carol Kaye Project
Sunday October 29
Doors 6:30pm / Event 7:30pm
$25 General Admission
All ages / Seated
3S Artspace is proud to present 2 performances of Boston Dance Theater's The Carol Kaye Project, BDT's newest program that celebrates seminal bassist, Carol Kaye, on October 28th and 29th.
"Since the early 1960s, Carol Kaye recorded an estimated 10,000 sessions, with everyone from The Beach Boys to Marvin Gaye. Yet, she remains relatively unknown. Boston Dance Theater chose choreographers Karole Armitage, Rena Butler, and Rosie Herrera to honor Kaye's extensive musical repertoire. I'm humbled to contribute a fourth work to this program, set to a commissioned music score featuring the electric bass by my brother and collaborator, Grant Stinnett. As a diverse cohort of powerhouse, American, women choreographers, our works embody Kaye's genius through sweaty, whimsical, and thoughtful choreography." —Jessie Jeanne Stinnett, Boston Dance Theater Founder & Co-Director
----
BDT Friendraiser Party:
Join BDT after the performance from 9:15-10:15pm for an exclusive Friendraiser party by purchasing this add-on ticket during checkout. Small bites and one complimentary drink are included! (Friendraiser admission is in addition to the performance ticket.)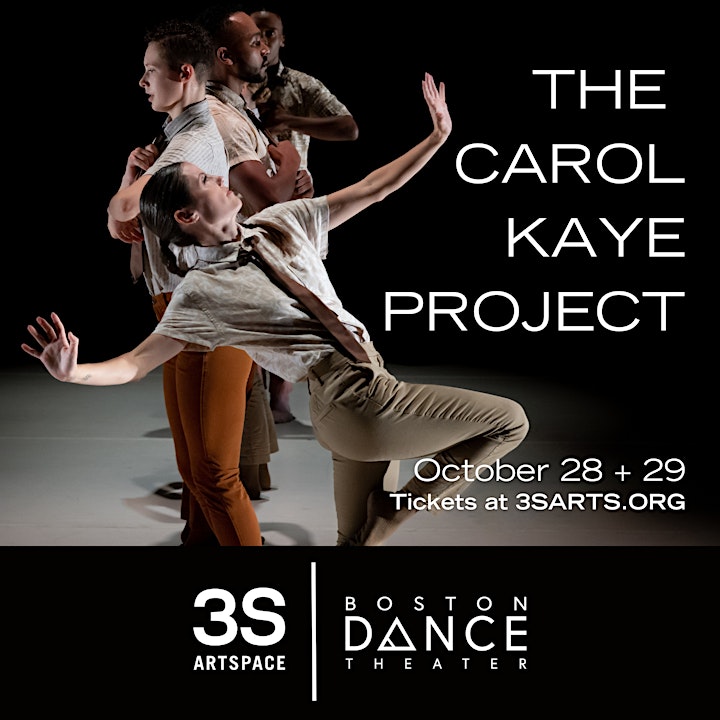 "This is a beautiful honor by this fantastic dance troupe in Boston!" —Carol Kaye
"With its expert dancers and an evolving repertory of works by important choreographers, Boston Dance Theatre has found a way to maintain its sparkle further into the 21st century." —WBUR
About Boston Dance Theater:
Under the co-artistic direction of Jessie Jeanne Stinnett and award winning, Israeli, choreographer Itzik Galili, Boston Dance Theater (BDT) is Boston's first contemporary dance repertory company with international ties at the leadership level. With a commitment to presenting works of socio-political relevance that challenge the edges of current world issues, BDT matches the talents of Boston-based dancers with those of acclaimed global choreographers, broadening the scope of contemporary dance practice and performance in our city. BDT is a registered 501(c)3 tax-exempt charity as of 2019.
Choreographers: Karole Armitage (Bio), Rena Butler (Bio), Rosie Herrera (Bio), Jessie Jeanne Stinnett (Bio)
BDT Founder, Co-Artistic Director: Jessie Jeanne Stinnett (Bio)
Co-Artistic Director: Itzik Galili (Bio)
Technical Director: Holly Gettings (Bio)
Costume Designer: Zane Kealey (Bio)
----
Promotional photography credit: Melissa Blackall
Video Trailer credit: Scalped Productions
Funded in part by the New England States Touring program of the New England Foundation for the Arts, made possible with funding from the National Endowment for the Arts Regional Touring Program and the six New England state arts agencies.
Thank you to our year-round Lead Sponsors: AC Hotel Portsmouth, MacEdge, and Raka.